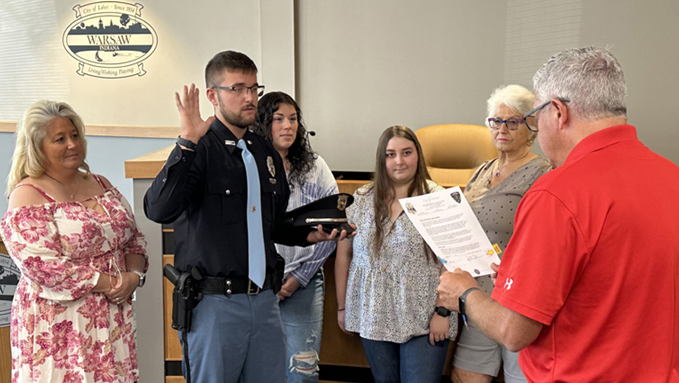 By David Slone
Times-Union
WARSAW — The son of a Kosciusko County Sheriff's Office deputy killed in 2009 in the line of duty took his ceremonial oath of office Friday as a Warsaw Police Department officer.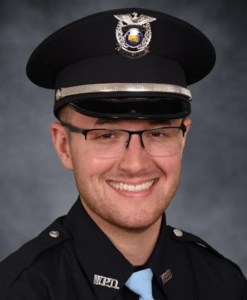 Officer Nickolas Shaw received the oath from Warsaw Mayor Joe Thallemer at the start of the Board of Public Works and Safety meeting. He was not only supported by his family and fiancee, but also representatives of the KCSO and WPD.
Nickolas was hired on June 22, 2022, and successfully completed the mandatory one-year probationary period on June 26, 2023, according to information provided by WPD Public Information Officer Capt. Brad Kellar.
During the last year, he completed WPD's field training program and graduated from the Indiana Law Enforcement Academy.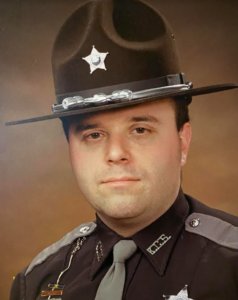 On Nov. 12, 2009, Nickolas' father, KCSO Sgt. Jeff Shaw, was killed in the line of duty. While Jeff was on patrol along Ind. 14, he collided with a truck that was veering off the road, overcorrected and hit his police commission head on. Jeff was pronounced dead at the hospital.
At the time, Nickolas was 9 years old.
Before swearing Nickolas in, Thallemer said, "I think it's an extra special day today, given the support that's here from the county. I'm very gratified for how you have supported Nick and you're here on his big day as he embarks on a career in law enforcement. So it's great to see you all. Of course, our Warsaw Police are always here for these, and, together, I'm just super gratified."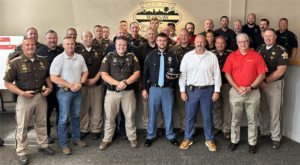 After the ceremony, Thallemer said, "It was truly amazing. Obviously, there's history there. I told Nick he's got some big shoes to fill, but he's also got the largest support I've ever seen at a swearing-in, so I think he's on his way. It's just a great moment."
City attorney Scott Reust said he had just came over to City Hall from the Justice Building and there were "tons" of deputies, judges and staff "super excited" about the swearing-in.
"I'm just thrilled of the quality of individual that's going to join our force. It will just add to what we're trying to do every day for everyone in this community. Nick is going to be a wonderful addition to the police department," Thallemer said.
Jeff' Shaw's radio unit number was 43-29, which was retired by the KCSO. As a probationary officer for WPD, a new officer receives a temporary radio number. After completion of the probationary period, officers are assigned to a shift and assigned a permanent radio number. Nickolas was given 479 as his probationary radio number but he will move to 429 as his afternoon shift assignment. Nickolas specifically requested his radio number be 429.
The twenty series numbers stand for the afternoon shift, according to information from Kellar. It is symbolic of the number his dad used on the radio in Kosciusko County for 11 years.
"Those of us that knew Jeff know he is looking down and extremely proud to see his son's successes, as he is surrounded by family and work colleagues in blue and brown. We also look forward to officer Shaw's continued successes as he patrols the streets of Warsaw during the afternoon shift," Kellar stated in the release.
Nickolas is a Warsaw Community High School graduate and earned his Bachelor of Science degree in Public Affairs from Purdue Fort Wayne University in 2022. Before joining WPD, he worked for Kosciusko County Work Release and spent a short time in the jail division for the KCSO.
WPD Chief of Police Scott Whitaker said Nickolas is the 40th officer for the department, having been hired a year ago. Whitaker said Nick joining the force was meaningful for a number of people.
"Obviously, law enforcement, in just this past week especially, seeing that there were two other additional officers in the state of Indiana that gave the ultimate sacrifice. That he was sworn in this week is a reminder of just what his father did – he sacrificed his life serving, and for Nick to want to follow in that legacy and be a part of the law enforcement community in Kosciusko County, because we're all one team, and that's what it's all about. And for him to apply with us, we were excited and we think he's going to be a great asset to our team, and, again, his family is supportive and that just means the world to both he and our department," Whitaker said.
The two officers killed recently were Tell City Police Sgt. Heather Glenn, who was fatally shot Monday at Perry County Memorial Hospital in Tell City while trying to arrest a man suspected of domestic violence, and Indiana State Trooper Aaron Smith who was hit by a stolen vehicle June 28 while trying to place tire deflation sticks in the road in suburban Indianapolis.
Whitaker said he knew Jeff Shaw well.
"So, obviously, some of the tenured officers on both the county and the city had the privilege of working with Jeff Shaw," Whitaker said. "He was a sergeant on the sheriff's department and the crash occurred in 2009. I would have been an administrator, but I had previously worked  on patrol along with him. Again, a lot of the administrators that were here today, I know served with him."