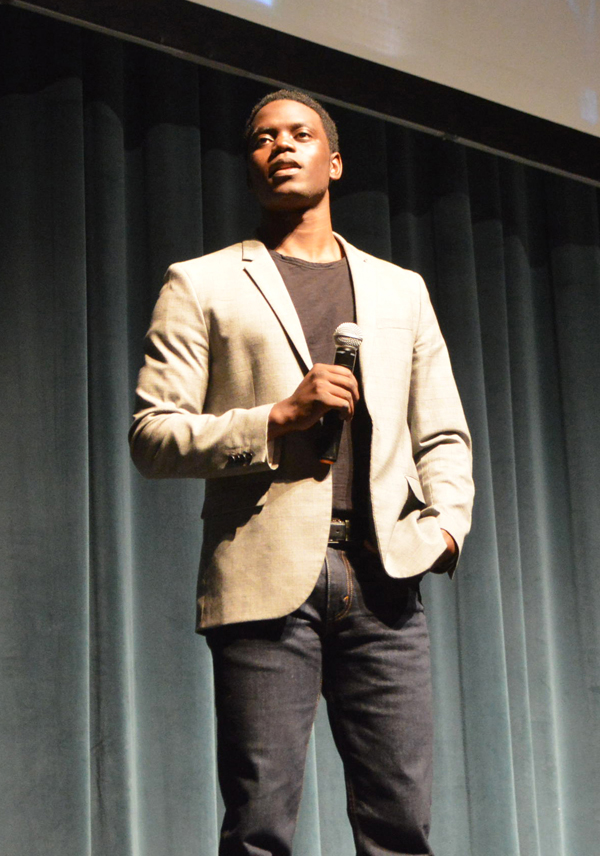 Unity and empathy were the cornerstone of Chris Singleton's speech Thursday at the Performing Arts Center as part of Warsaw Community School's speaker series.
Singleton was drafted by the Chicago Cubs in the 19th round of the 2017 MLB June Amateur. He played for minor league teams AZL Cubs, Eugene Emeralds and South Bend Cubs before being released by the South Bend Cubs in 2019.
Superintendent Dr. David Hoffert said Singleton is an inspirational speaker and a best-selling author, speaking to over 60,000 students.
In 2015, his mother was one of the nine people killed during Dylan Roof's mass shooting that took place at Emanuel African Methodist Episcopal Church in Charleston, S.C., Hoffert said. While Roof wanted to start a race riot, Singleton inspired the city around him, and the nation, by "figuring out how to forgive the man who murdered his mother."
Singleton said he's spoken in 40 states. When he speaks, the first question he gets when people hear his story is: How and why can he talk about unity and bringing people together when his mother was killed because of the color of her skin?
He said he doesn't believe in a why. When he asks people if they want to make a lot of money to support their family or if they want to make the world a better place, the answer he gets is yes. So that's why he doesn't believe in a why. Instead, Singleton gives people five numbers: one, 70, 50, nine and one.
The numbers come from his mother's murder, representing what happened that day. One person was misinformed and hated Black people, Singleton said. That one person fired 70 shots into the church in South Carolina. While people were praying, 50 of the bullets hit people in the church, taking nine lives.
One of those lives was Singleton's mother, Sharonda Coleman-Singleton. Singleton said she called herself "all that and a bag of chips."
Those five numbers push him forward every day, Singleton said. It does get hard talking about his mother. It gets hard talking about unity when so many things are happening that don't show unity.
He said he believes with time comes wisdom, as well as wisdom coming from experience.
Singleton said he only shares things he's personally experienced. While he wouldn't be so arrogant as to think he could change the hearts of the students who listened to him speak Thursday, he hoped he could change their perspective. And the students could help Singleton's "crazy mission" to end racism.
Singleton said people can help others change their perspectives by sharing their personal stories first of how they got to their opinion instead of their opinion first.  He stated it's more powerful. By people sharing their opinion first, people listening tend to shut down.
Singleton shared the story of how he learned his mother was dead. He tried to get into the church after learning his mother was shot to make sure she was OK. A police officer ended up walking him approximately three blocks away to describe his mother to the coroner so she could verify Sharonda was dead.
The unthinkable was telling his siblings their mom was dead, Singleton said.
"No more kisses on the cheek after a game. No more annoying screaming and yelling in the stands while I'm hitting. All because someone was misinformed and hated me based on the color on my skin," Singleton said.
He wanted to know how people overcome those things. He realized after talking with a friend, the idea is your life is 10% action and 90% reaction.
The 10% action is things people can't help, such as what their skin color or first language is or who they're born to. Examples Singleton gave in his life of his 10% is that he had a great dad, who taught him to shoot basketballs while he was there. However, Singleton's father was an alcoholic, who died from liver failure. His 90% is promising his wife and child he wouldn't become an alcoholic.
Another example of Singleton's 10% was his mother's murder. His 90% is talking to people and teaching and reminding them no one chooses such things as their skin color or first language.
"Nobody chooses any of those things, so I wouldn't hate you for those things. And you shouldn't hate me for those things. We didn't choose them," Singleton said.
Suggestions of what people can do in their every day life is teaching. One example he gave was Dr. Martin Luther King Jr. talking about how people should be judged on the content of their character, not the color of their skin. He said in high school he think it's important to be taught that because he's seen comments on social media saying hateful things, possibly from high school students. He said if people see their friends doing things like that, they should stop them.
Singleton also suggested people expand their circle of friends. When people have friends from different religions and races, they get different perspectives.
He said he was asked why he didn't hate all white people when his mother died. He said because he had all types of people from all races and religions "pouring into him. I had those relationships."
When people have those relationships, they're not afraid of messing up. When people don't have those relationships and people mess up and the person "isn't politically correct or whatever, that's when there's trouble," he said. When people have friends from different backgrounds, they get different perspectives.