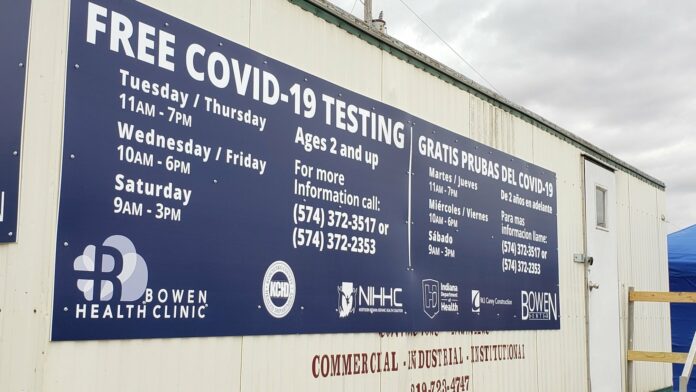 COVID testing continues throughout Kosciusko County at five different locations, but officials want to remind you that only one of those is the free state site run with CARES act funding.
The Bowen Center testing site recently moved to the Kosciusko County Fairgrounds, now operating out of the Shrine Building to help with the growing demand of the tests and also to provide a warmer space for workers.
This site continues to be a free testing site run in partnership with the Indiana Department of Health. Their hours are as follows:
Monday/Wednesday/Friday 10AM – 6PM
Tuesday/Thursday 11AM – 7PM
Saturday 9AM – 3PM
CLOSED on Sunday. No testing will be done on Christmas Eve/Day and New Year's Eve/Day.
You do not need a doctor's referral. You do not need insurance. You do not need to reside in Kosciusko County. The technicians are bilingual Spanish/English. For more information, call (574) 372-3517 or (574) 372-2353.
MedStat in Warsaw, Syracuse and Nappanee, along with Parkview Warsaw are continuing their testing sites, however you must provide insurance or self-pay at those sites. Schedule an appointment with those organizations ahead of time.