Network Indiana
INDIANAPOLIS — The 2023 legislative session will begin next Monday with lots of items concerning the state's budget over the next two years at the forefront.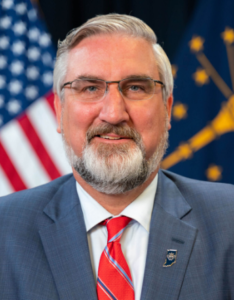 This will be Gov. Eric Holcomb's final budget session as governor and he has a few things that he will be prioritizing when he rolls out his budget proposal to state lawmakers in the coming weeks.
"That we continue to improve in all the areas that we need to," Holcomb said on All Indiana Politics. "Whether we're ranked number-1 in terms of infrastructure in America, or if we're ranked 48th, how do we improve? How do we maintain that pole position."
The two main objectives for Holcomb over its final two years in terms of spending are on health and education in Indiana.
"We'll want to make sure we are providing even more direct pathways for high school students to either enlist or become employed directly, or pursue higher education," he said. "We'll want to make sure we have more proven programs in place to scale up adults."
Holcomb said the latter is key in terms of workforce development.
Holcomb was also asked what the state might plan to do to do its part in combating the climate crisis. The governor was the only state governor from the US to attend a climate conference in Egypt late last year.
"This is critically important to us," Holcomb said. "The market usually has the final say, but it's the market that is spinning out innovations. We're here today working with Purdue and Duke Energy on small modular reactors. We're working on stretches of highway that will charge trucks and batteries in the EV market."
Holcomb wants to make sure the state is bolstering the market in order to keep those innovations churning out in order to better take on the climate crisis.