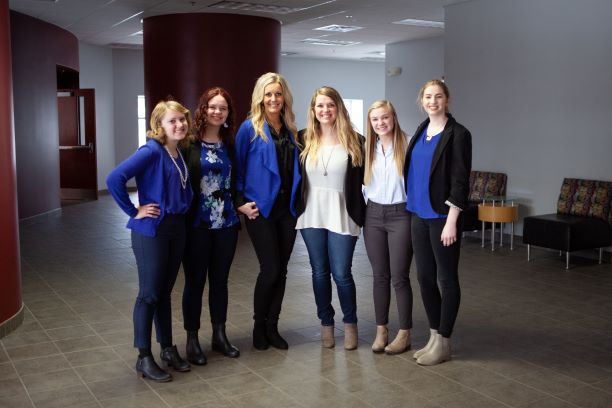 Grace College's online advertising and email marketing class recently partnered with five local businesses to create comprehensive digital marketing plans. The class presented final marketing recommendations to business leaders of Orthoworx, Owl Manor, Core Mechanical Services, Wildman Business Group, and the Kosciusko County Prosecuting Attorney Office on Feb. 27 in the Manahan Orthopaedic Capital Center.
"The class is designed to give students real-world experience," said Matt Metzger, digital marketing instructor at Grace College. "We didn't just talk about how to do digital marketing according to a textbook, we put the concepts into practice and helped our community businesses," he said.
The class was divided into five teams that met with their business leaders and learned about the needs of the companies. On presentation day, the students provided the companies with comprehensive digital marketing plans utilizing Google AdWords, social media posts, ad delivery via geofencing and website SEO. The business leaders walked away with practical changes to implement.
"Partnering with Grace College students in the digital marketing class provided a great learning experience as we worked together to determine solutions for increased recruitment efforts in our community. We appreciate their professionalism and attention to detail and were thrilled with the final recommendations they presented to us today," stated Angie Danko, communications coordinator at Wildman.
The project not only served the community businesses but also gave students an organic opportunity to network. Abbey Miller, a sophomore digital marketing major at Grace, said, "Working with Wildman Business Group has given me real-world experience that I can take with me into the rest of my college courses and into my career."
Digital marketing is the newest academic program in the School of Business, which offers 15 different majors and enrolls a full quarter of all Grace College undergraduate students. To learn more about Grace's digital marketing program, visit www.grace.edu/major/digital-marketing/.