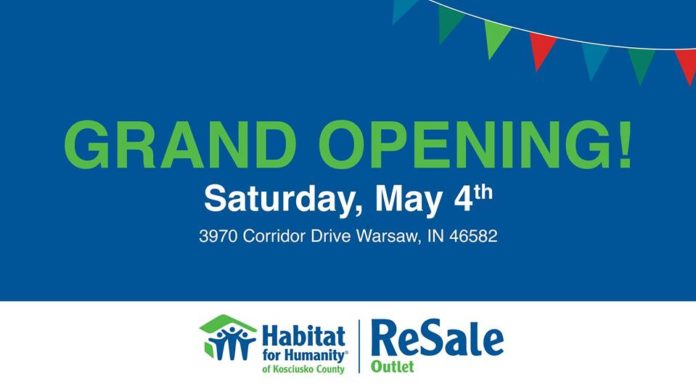 A ReSale Outlet is coming to Warsaw.
Habitat for Humanity of Kosciusko County Executive Director Mickey Kaufman says the store will have a lot to offer.
"Appliances that have been used a very short amount of time, some beautiful cabinets, we just have a lot of good things on the floor," she tells News Now Warsaw.
"The county has been very good to us and we look forward to continuing that partnership with all our families in the community."
A ribbon cutting ceremony will be held for the Habitat for Humanity of Kosciusko County ReSale Outlet on Friday.
The Grand Opening will be held Saturday May 4 at 3970 Corridor Drive. 
In addition to having items for sale, donations of furniture, building supplies, and appliances can also be dropped off during store hours, which will be Fridays & Saturday from 9 a.m. to 5 p.m.
You can hear more about the Habitat for Humanity of Kosciusko County in a full interview with Executive Director Mickey Kaufman on the award-winning public affairs program IN the Know Friday at 9 a.m. and Saturday & Sunday at 7 a.m. on News Now Warsaw 1480 AM & 99.7 FM.