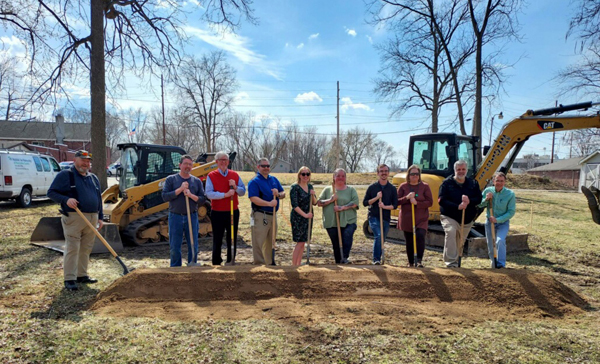 A groundbreaking ceremony for a Habitat for Humanity house at the intersection of Ellsworth and Lyon streets in Warsaw signified the end of several years of waiting for one woman.
Future homeowner Missy Francis thanked everyone that helped her get to the point where she was Thursday at the groundbreaking.
It was a struggle to get Francis to this point, said Ben Logan, executive director of Habitat for Humanity of Kosciusko County.
Francis said she believed her youngest son was 15 or 16 when she started in the Habitat program and he just turned 22.
"So it's been a journey and a half," she said. There have been times when she's forgotten she was in the Habitat program, "but here I am."
If you look in the dictionary under the word perseverance, you would see a picture of Francis, Ken Locke, envoy of the Salvation Army, said. She worked so hard to make the Habitat build happen.
The journey included applying for the Habitat program and going before the Habitat for Humanity Board to be accepted and then you become a partner family for the program, Francis said.
"And then if you're in need more than someone else who's on the list, that's when you get your house built. So it just takes some time and how much you need the house."
Logan said Francis came to Habitat for Humanity through the Salvation Army's  Pathway of Hope that takes people from living more on assistance to getting more to a self-sufficient stance. When she was done with that program, Locke, encouraged her to apply for a Habitat home. Locke said when the program started about 10 years ago, Francis' family was one of the first to join.
Logan said Habitat for Humanity typically builds one or two houses a year. Building one house takes more six to nine months.
Francis told Logan she didn't want to hear a date until Logan was sure they were going to break ground. She didn't want the date to be pushed back, she just wanted to know when it would happen.
Anyone who has been in the process before, it is hard to find land in Warsaw and the Salvation Army helped Habitat for Humanity secure the lot, Logan said. "And without a lot, you can't build a house."
Locke said he moved to Warsaw over 30 years ago and that's when the house previously on the lot was being torn down. He has looked at any empty lot now for 30 years. And he said in the back of his head that "we should do something with that lot" and it never happened for one reason or another.
"I finally said, 'Why don't we do a Habitat build on it?' And due to a lot of different circumstances, that didn't happen. But finally, we were able to put it together and make it happen," Locke said.
Logan said it's such an exciting start, an exciting build and Habitat is "so excited to get started." Logan said they are grateful for the community's financial support and people building.
Logan said the COVID-19 pandemic hasn't helped. When the pandemic started, it kept some volunteers from helping. However, volunteer numbers are starting to go back up. Right now, the struggle is the construction costs.
"A lot of people think we get everything we have for free and that's just not the case," Logan said. Habitat has to pay for a lot of materials, so when materials go up, costs go up. Money comes from fundraising.
Francis said she helped with fundraising by selling laundry soap several times. She said she appreciated everyone that bought from her, as well as everyone that donated money to build the house.
Logan said the house is going to be a three-bedroom, one-bath house. G&G Hauling and Excavating will do the excavating of the house. Volunteers will do most of the work, with the exception of the foundation, some plumbing and HVAC and some other technical work. The framing, windows and other such work will be done by volunteers.
Logan hopes Francis gets some stability out of the new Habitat house as that's the purpose of the Habitat for Humanity program.
When Locke sees Francis sitting on her porch, he's going to be so happy, he said.
Francis said she looks forward to seeing it being completed.
Francis is thrilled about the house and it'll be even more exciting when the build is done and she'll be able to officially move in.