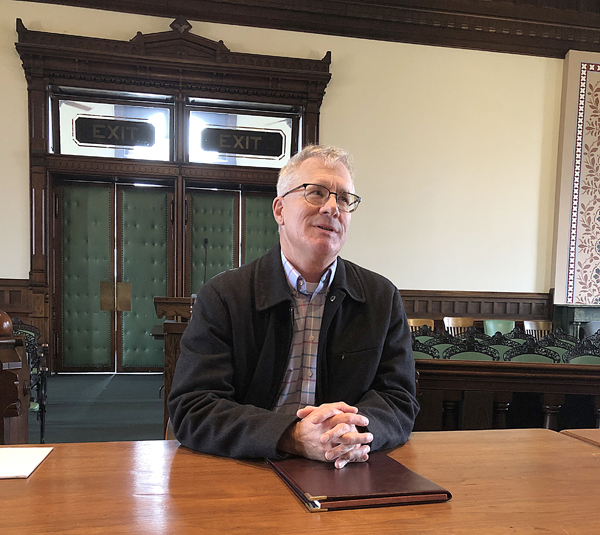 Healthcare workers are on the front lines of the fight against COVID-19.
"They are a precious resource. I can tell you … last week we had our first case and we talked about some conceptual things. But there's an emotive piece today as a healthcare worker. I can tell you the healthcare worker environment is feeling this. Support them. Encourage them. Figure out creative ways to do that. They are feeling vulnerable. They are stepping up. They are Marines willing to step into the battle. Their professionalism is noteworthy, it really is," Dr. William Remington, Kosciusko County public health officer, said during a press conference Wednesday.
He had two major points to make during his update on the coronavirus and how it's all playing out in the county. The first was "be respectful of the healthcare worker who's increasingly going to need your support," and the second was, "don't take your foot off the gas with social distancing, staying home as much as you can."
Remington said the Kosciusko County Health Department just learned of the fifth confirmed COVID-19 case in the county Wednesday morning. "We had been inadvertently reported with another county's case, that's why the state's map with the COVID-19 dashboard had five for us (Tuesday)," he explained.
The county has no deaths.
"I anticipate the case count, if we fall in line with the curves many other places have seen, our case count will escalate in the next 10 days," he said, though he couldn't "perfectly" identify the slope of that curve, though it will "ramp up."
As the county gets more cases, Remington said the KCHD will be able to share more demographics – age groups affected, hospitalization rates, who gets admitted, etc. "We cannot really report that with just a handful of cases. It gets too easy to inadvertently point a finger at an individual. We have to avoid that and respect a patient's privacy," he said.
The county's case count is "mostly reliably" seen by looking at the Indiana State Department of Health's dashboard, he said. While the county would love to see more testing done, he said there's no mandate that just submitting a patient to a test needs to be publicly reported.
"We've been making phone calls, trying to cobble together that number, and we're sensing it's a big ask for an increasingly busy healthcare environment. And we don't trust the number anyway," Remington said, so the health department will stop trying to provide a daily number of how many COVID-19 tests have been performed in the county.
He said they have great reporting for the most germaine topic, which is the number of positive coronavirus cases.
Each case contact investigation requires a number of phone calls – where the person who tested positive works, lives, how many live in the household, who has been ill, etc.
"Good case contact work takes some time," Remington said.
He said a handful of staff work on those investigations.
"We, actually, as a small, rural county had the luxury of a full-time communicable disease nurse. We never had that until the crisis at hand 15 years ago, which was the TB outbreak," Remington said. After that, he realized the health department couldn't use its one nurse to do both jobs.
"The council and commissioners were quickly with me on that topic, and even in this conservative county, they allowed us to add that full-time position. That has been huge," Remington said, noting many counties of Kosciusko's size don't have a communicable disease nurse.
Kosciusko's communicable disease nurse is Teresa Reed, RN. "She's doing a great job and is very experienced," Remington said. "She's a tremendous asset to the county."
Recently, the health department added a temporary epidemiologist – Nichole LaLonde – to that area of the department. She has a master's degree in public health in epidemiology. "What a time to have that. That is a super luxury for a small rural county. And, again, the council and commissioners were right on it with that request. That was great," Remington said.
LaLonde had served as an intern with Reed last summer and needed a job, at least for now. "She's great. Just getting to know her, but she has the tools in her toolbox to help us," Remington said.
A recent figure suggested 15% of healthcare workers will test positive for coronavirus. On Tuesday, it was learned that one of the cases in Kosciusko was an employee of Kosciusko Community Hospital.
While Remington could not speak to that case specifically, he said, "We think it's a sound general motif to be mindful of when it's appropriate to seek medical care, number one."
He said there's information on the Centers for Disease Control and Prevention website on COVID-19 about what to do when ill, even if a person is not a confirmed case.
"Don't just race to the hospital, that's number one," Remington said. "Don't race to a healthcare setting just to get testing. You should not do that."
He said people should not fear catching COVID-19 at a hospital should they need hospitalization. "They have very careful infection control algorithms, policies," Remington said. "When we hear of a positive case, we quickly are on the phone with  infection control nurses at the involved hospitals, if there is a hospital system involved."
He said they will call the hospital and part of the traceback will be who is at risk, if any, within that healthcare environment.
"Those that are felt to be at risk, who are without symptoms, will be asked to quarantine," Remington said.
The 15-day plan across America to help keep the coronavirus in check has expanded to become the 30-day plan. The foundational pieces of the plan are still applicable, like self-isolation, social distancing and staying home as much as possible.
"So here's my other strong message today: We just can not take our foot off the gas on that. We really need community buy-in. Those simple things, or maybe not so simple things, to stay home, we think have great traction in an epidemic mitigation mindset," Remington said.
Earlier this week, White House Coronavirus Response Coordinator Dr. Deborah Birx said even if everything was done almost perfectly, she still predicted 100,000 to 200,000 U.S. deaths. Remington said those were sobering numbers.
"Yes, we think that is honest," Remington said, noting that National Institute of Allergy and Infectious Diseases Director Dr. Anthony Fauci's caveat is important. "In that, even those these are sophisticated modeling techniques, it's still built on the premise of some things that you may not know perfectly about the virus at hand."
He said those numbers should not be used to provoke fear, which defeats a "community buy-in of the 30-day plan and conceptually the notion that you stay home, stay alive."
One of the big question marks about COVID-19 is whether this new coronavirus will prove to have a seasonal predilection, like influenza.
"We don't know that," Remington said. "Traditional seasonal influenza is seasonal influenza. It pops up in November typically and hovers around in a varying way, typically in a bell-shaped curve, until early April. But with novel pathogens, they will often prove their unpredictable nature. So there is some potential there could be a surge later."
There have been some reports in other countries of small secondary surges of COVID-19.
"People will have to keep their foot on the gas for a while here with these social distancing things, institutional closure things – schools, universities," Remington said. "Maybe, eventually, assuredly eventually, we'll get to a discussion of what may start to reopen. But not now."
He said there will not be full churches on Easter Sunday. He doubted there will be a Memorial Day parade and a gathering around the flag pole. Maybe, by July 4, "we'll feel comfortable with a parade. But, probably, we'll stay say to those who are of potential greatest threat, to stay home from that parade."
By early summer, he said "hopefully" there will be a little loosening of "things that will feel more comfortable opening up." If that happens, a person at risk of coronavirus probably will still be told to stay at home. "That's a strategy that would  be very, very carefully played out," Remington said.
He said they'll have to see what May brings.
"But eventually the 30-day plan will change. I can not tell you perfectly when that will be," Remington said.
The most common question Remington said he receives from the general public is if they should wear a mask.
"So my usual answer is to stick with the party line from the CDC and the State Department of Health. And that's for most of us, we do not need to wear a mask in public," he said.
However, he is starting to soften his position on that a little bit because of stories from other countries like South Korea.  "Perhaps they did better with prompt use of a mask being part of that. It's being dynamically discussed at the CDC, I know that right now. So we may come to a point where we say everybody wear a mask all the time," Remington said.
Sticking his neck out a little bit, Remington said based on the curves he's seen from elsewhere, "Our peak in this county is probably six to eight weeks out. I do not have a formal prediction model in my head as I do that," he said.
China seemed to peak in six to eight weeks, he said, if their data is to be trusted.
"I would predict our peak is maybe six to eight weeks out," Remington said. "I want to convey the thought this takes a while. It's not two weeks away. I don't think it's probably three months away, is the way I'm seeing this. So six to eight weeks."
He said hospitals will be fatigued and stretched thin in those six to eight weeks. "They'll be functioning, doing things in creative ways, but they'll be functioning well."