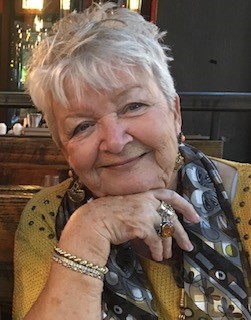 Helga Curts, of Chapman Lake in Warsaw, Indiana, passed away on Friday, December 10, 2021, at the age of 81.
She was born the eldest of two children on May 18, 1940 in Giessen, Germany, to Richard and Katharina (Lickfers) Rott. She and her brother Kurt were raised in Wiesbaden, Germany. Helga attended a commercial college and held an apprenticeship as an office clerk, and later worked in insurance in the construction industry. At age 24, Helga immigrated to the United States to live with family friends in Washington, D.C.
While working at the credit union on Andrews Air Force Base in Maryland, she met customer Bill Curts, who asked her out to lunch. Three months later, they were engaged. Upon Bill's return from Vietnam, they married on January 11, 1969 at the Navy Chapel on base.
They then lived three years at Ft. Bragg, NC and briefly at Hill AFB, UT before Bill retired from the military after 20 years and the couple settled in his home state of Indiana.
While she and Bill raised their children in Valparaiso, Helga was a stay-at-home mom, then a teacher's aide at Northview Elementary, and later earned her nursing degree at Purdue North Central in 1987. Soon after, she began working at Porter Memorial Hospital on the Postpartum Unit.
Helga and Bill moved to Chapman Lake when Bill retired from the IRS in 1996. Helga then worked part-time giving immunizations at the Kosciusko County Health Department for 17 years. She resumed this work as a volunteer assisting with COVID immunizations in 2021. She was also active as a volunteer in outpatient surgery at Kosciusko Community Hospital, as well as a member of the American Legion Post 253 Auxiliary, the Chapman Lakes Conservation Association, and Lake Lovers Club.
Helga loved visiting her children and their families, spending time with relatives and friends, and travelling across the U.S. and the world with Bill. She most recently enjoyed a three-week solo trip to visit her brother and family in Germany in September. Helga's other interests included theater, shopping, people-watching, boating, reading, and tending to her flowers. She was also an avid dog lover.
Helga is survived by her children Jennifer (Brian) Weith and Andrew (Sohee) Curts, granddaughters Anna Weith and Lillian Curts, brother Kurt (Siegrid) Rott, and many wonderful extended family members and friends. She was preceded in death by Bill, her husband of 51 years, on Feb. 1, 2020, as well as Bill's siblings and their spouses.
A memorial service and celebration of life will be held Saturday, February 5, 2022 at the American Legion Post 253 in North Webster, Indiana. Friends and family may visit from noon until the start of the service at 2 p.m. Eastern Time.
Memorial donations may be made to:
American Legion Post 253 -756 South State Road 13 North Webster, Indiana 46555
To Sign the Guestbook or Send a Condolence go to www.mchattonsadlerfuneralchapels.com