Despite the pandemic, Warsaw Community Schools has been able to remain open during the 2020-21 school year.
Superintendent Dr. David Hoffert highlighted that fact during his "State of Warsaw Community Schools" report to the school board Tuesday.
He said WCS is "a massive organization" with approximately 6,800 students and 1,200 employees. "That is a small city within itself."
When dealing with transportation, Hoffert said the school corporation is down a little bit in mileage as compared to other years due to some field trips and other activities not taking place. However, Hoffert said WCS has over 12,500 miles of bus routes "that are taking place every day" inside the school corporation.
During the early part of the pandemic, Hoffert said there were approximately 25,000 meals going out to corporation families on a weekly basis.
He said the biggest achievement for the 2020-21 school year was staying open.
"When you look around at the state of Indiana, we're one of the largest school systems to stay continually open, K through 12th. And that is a huge achievement," he said. WCS was one of the few school corporations to have in-person graduations.
Hoffert said WCS was one of the first school corporations in Indiana to have in-person summer school. When WCS got their sports teams, they put extra precautions in place, stating WCS knew if "we can do that," the school corporation could put its extracurricular activities in place. And Hoffert said, once WCS knew they could put its extracurricular activities in place, they could put the classrooms in place for in-person classes.
Hoffert said it took "an amazing team" of students, teachers, staff members and community members to put everything together, knowing how important in-person instruction is.
He said his family does a little bit of a reflection during the holidays. This year, he asked his children what the highlight of 2020 for them. They said going back to school.
"You know, that put it all in perspective for me," Hoffert said. He said he realized how important it was to go back to school and do it safely.
Hoffert said after an experience with one of his children, he was determined students would never be able to wear masks in school. However, he said, "kids have become some of the most flexible, adaptable beings" within schools, learning how to adapt to do what is needed to be done to go to school with the restrictions put in place.
"Safety has to come first," Hoffert said.
Hoffert said on a large scale, transmissions of COVID-19 is not happening within WCS schools. More often than not, it's contracted at home or social gatherings where a variety of age groups are getting together. Hoffert said the school corporation has been able to watch it and make some recommendations with collaboration with the county and state health departments.
Hoffert also highlighted somethings from 2020 outside of the COVID-19 pandemic.
All WCS employees stayed employed and no hours were cut during the pandemic, he said. Hoffert said some employees provided services in new ways.
Hoffert also noted demolition of the old Madison Elementary School building that started Monday, giving it as an example of one of the efficiencies the school district made during the year.
WCS approved an offer from Cary Groninger for the property during its July 15 meeting. It will become a residential development, named Gateway Grove. People are able to pick up bricks tentatively starting after 8 a.m. Tuesday, Jan. 12.
Other things Hoffert noted was WCS integrating two therapy dogs at Leesburg and Eisenhower elementaries; and starting new school start and end times beginning at the start of the year.
Upcoming goals for 2021 were highlighted.
One of the goals includes continued work at Warsaw Community High School. Hoffert said the high school is almost 30 years old, with parts of it "coming up to 40 years of age." In 2020, 33 classrooms were updated.
Another building project the school corporation is working on is the gym at Jefferson Elementary.
Improved teacher compensation is another goal for 2021 Hoffert touched on.
SCHOOL BOARD REORGANIZES FOR 2021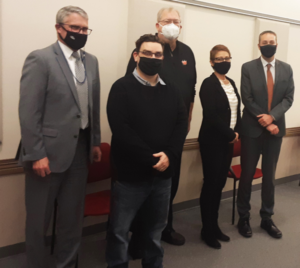 During Warsaw School Board's organizational meeting Tuesday for 2021, Matt Deuel, Randy Polston and Elle Turley were sworn in.
Polston and Turley were re-elected to their positions Nov. 3. Deuel was elected to his school board seat Nov. 3, replacing Jay Baumgartner, who did not seek re-election.
The three board members were sworn in by school corporation attorney Timothy S. Shelly, of Warrick & Boyn LLP.
Shelly said as a board members, the members put themselves out for challenges and repeated criticisms as a candidate and board member, "receiving only the meagerist of compensations," all for the betterment of the community's children.
"For that, you should be extremely proud, greatly commended and sincerely thanked," Shelly said.
The school board also voted on officers for 2021. Heather Reichenbach was re-elected president, Polston as vice president and Jeremy Mullins, secretary.
In other news, the school board:
• Approved its meetings for 2021.
• Affirmed its school board code of ethics.