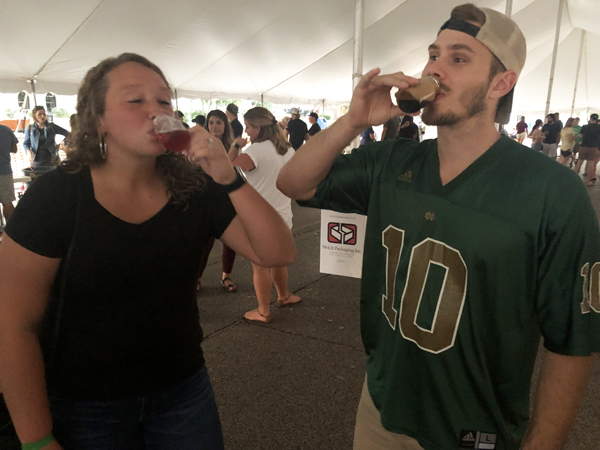 TIMES UNION REPORTS – For the first time, Kosciusko Chamber of Commerce's Taste of Kosciusko and the Kettlehead's Homebrew Fest joined together Saturday downtown Warsaw to create a smorgasbord for the public's tastebuds.
The Homebrew Fest – an annual fundraiser for Combined Community Services – was under a large tent on Buffalo Street between the county courthouse and One Ten Craft Meatery; the vendors for Taste of Kosciusko were under separate smaller tents on Center Street between the courthouse and City Hall.
Rob Parker, Chamber president and CEO, said this year's Taste of Kosciusko was the Chamber's fifth year, having taken 2020 off due to the pandemic. Before that, it was "Taste & Trade" and had been held at the Heritage Room in Winona Lake. Two years ago, in was held in conjunction with the Sons & Daughters Festival.
"This year, we thought, what's better than a brewfest and a food fest? So we partnered together (with the Kettleheads), we split some of the costs, the marketing together," Parker said. "This is just a great venue for people to come down. They drive down, they see something happening and they want to (join)."
A couple of other events also brought people downtown Warsaw Saturday, including the John Dillinger Raid at the Old Jail Museum and the 9/11 ceremony and parade at Central Park.
Parker said the parade coming through was "just awesome" especially with the 21-gun salute at the war memorial. "Everybody just paused and just remembered," he said. "So what we're going to do here at the Taste of Kosciusko is, take some of the proceeds of this and we're going to give it back to our first responders and just help them. Let them know they're appreciated so much for all they do and putting their lives on the line for all of us."
The Taste of Kosciusko was a "huge" success, he said. "Just an absolute homerun for us. Tons of people came out. I felt like, for the most part, everybody was social distance. We have tons of space down here. Beautiful weather. We had excellent cooperation with the city of Warsaw and obviously the county. They did a great job of just helping us with this, and I couldn't say enough about the Kettleheads and all they've done."
Parker said the Kettleheads just brew their own beers at their homes and then just give it away for free. "Just so they can help raise money for Combined Community Services. What a great community that we care for each other, we want to have a good time, so this is really community and I just love it," he said.
Taste of Kosciusko will return in 2022, and Parker said the plan at this point is to have polka dancers and have a true German Octoberfest. "So it should be a ton of fun," he said.
Kettleheads President Jason Rich agreed the combined events was a success. "This day could not have been more fun. We were graced with perfect weather. It's great having food vendors around so our patrons can take a break and go eat and come back and enjoy what we made," he said.
He estimated a couple hundred people showed up for the Homebrew Fest throughout the event.
"The count and the amount donated to CCS will be calculated later. We won't know that for a week or two, but everybody came in and left happier," Rich said.
There were 47 different brews for people to sample.
This is the first time the event has been held downtown Warsaw. Rich said the Chamber has been asking the Kettleheads "for years to do it here, and this was just the perfect opportunity. And the perfect time, and we will be here next year."
He said the Kettleheads appreciate the money that everyone has given to be donated to CCS.
"It's a great cause. Without having a great charity to give money to, we can't do this. And everybody here feels good that they've done good, because that's our motto," Rich said.
He said Parker and the cooperation of the city "could not have been better. Everything worked perfectly."
Tim Frame, CCS director of emergency services, said the Homebrew Fest is a great event.
"The Kettleheads group has been helping us out for a few years now, and all proceeds from this event will go to helping families at Combined Community Services. This is going to help with keeping our food pantry open, keeping the clothing pantry open, our self-sufficiency program for the folks in the community who need help," he said.
He said the need is still there.
"Honestly, right now, we're still averaging around 400 families a month that come in for food assistance, so the need is still there," Frame said. "We do expect it's going to get even busier in the colder months. It always seems to be a trend."
He said CCS has its Adopt-A-Family program coming up to help families around Christmas time, as well as many food drives that will be going on as well.
The Food-A-Thon will be coming up in November, which is one of CCS's largest fundraisers for food.
"Because of COVID last year, a lot of these events had to be cancelled, so we're bouncing back bigger than ever this year, so we really appreciate everyone's support," Frame stated.