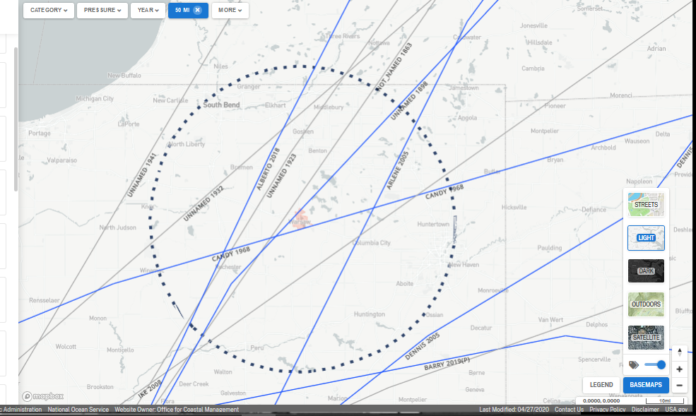 The center of circulation of Tropical Depression Cristobal will not travel directly through the area, however the storm will bring stormy and windy conditions with it Tuesday and Wednesday.
This brought up the question though, how often are we directly impacted by tropical systems or the remnants of a tropical system?
Michael Lewis from the National Weather Service office in North Webster sent over a map, showing the number of systems that have traveled within 50 miles of Warsaw. To date, twelve named systems have come through, with the earliest dating back to 1863.
Within the last two years, two storms have passed within that 50 mile radius, Alberto in 2018 and Barry in 2019, and five storms within the past 15 years.
You can see Alberto below with a well-defined circulation as it trekked up the western edge of Indiana near Terre Haute in May 2018.
Two of the twelve storms have had their center of circulations pass directly through Warsaw, an unnamed storm in 1898 and Candy in 1968.
The unnamed storm in 1898 was known as the "Georgia Hurricane," causing $1.5 million in damage, but with inflation to 2019 standards, caused roughly $46.6 million in damage. The storm was also responsible for 179 deaths.
Tropical Storm Candy was responsible for $2.7 million in damage, including $2 million to agriculture. (with 2019 inflation, Candy caused $19.1 million in damage).
One storm that maintained tropical storm strength as it passed nearby was Ike in 2008, which was categorized as an "extra-tropical" storm. It maintained sustained wind speeds near 60 miles per hour. Ike's center of circulation took a northeastern trek through the area, passing the closest to North Manchester and Columbia City.
Ike also brought torrential rainfall with it. Warsaw only ended up receiving about four inches of rain, but areas to the northwest in South Bend saw 10.9 inches at South Bend International Airport. La Porte saw 11.25 inches.
Closer to Kosciusko County, Goshen had the highest rain total at 8.25 inches and Elkhart 6.91 inches. Within Kosciusko County, Syracuse reported 6.47 inches, North Webster had 4.99 inches, Winona Lake with 3.75 inches and Claypool with 2.56 inches.
Ike is listed as the sixth-costliest hurricane according to the National Hurricane Center, causing $38 billion in damage from the greater Antilles, Texas, Louisiana, the Midwest, areas of eastern Canada and even Iceland.
Looking at the impacts for this week, Cristobal's center of circulation is expected to pass about 200 miles to our west through western Illinois, Wisconsin and the UP of Michigan before going into Canada. While the center will be far away, the impacts will be close with rain, wind and possible severe weather.