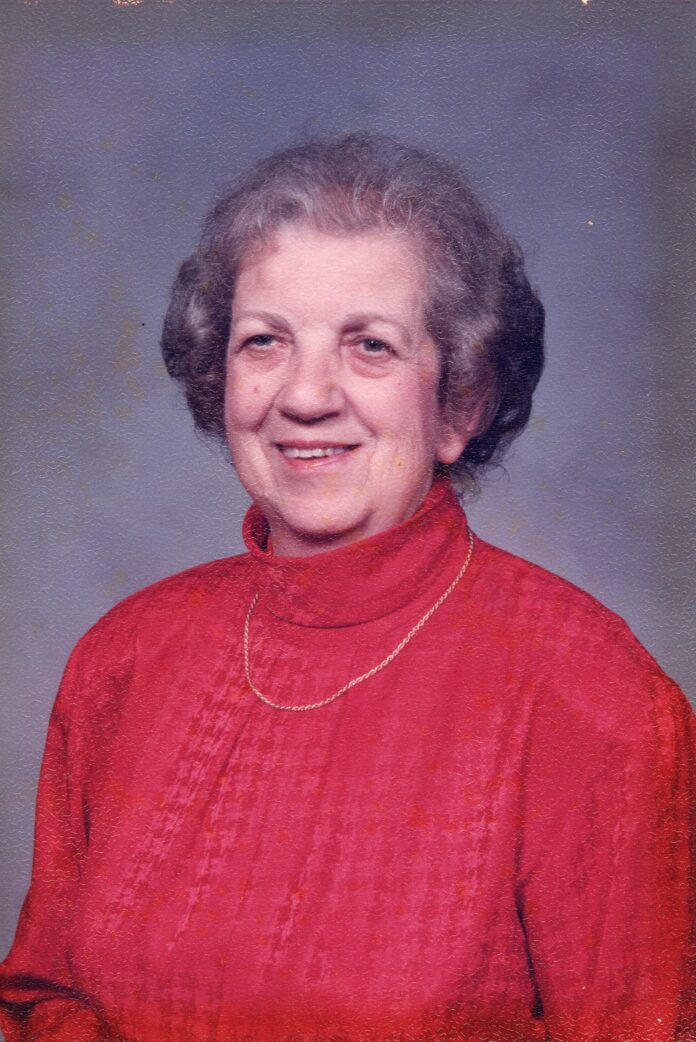 Idlee B. Armey of Warsaw, Indiana went home to be with her Lord and Savior at 4:56 a.m. on Saturday, September 25, 2021 at Mason Health and Rehabilitation Center of Warsaw at the age of 90.
She was born on November 30, 1930 in South Whitley, Indiana.  Idlee was one of four children born to Mildred (Stahl) Pritchard and Noah Pearl Pritchard.  On July 1, 1950 in Warsaw she was married to Carl Duane Armey.  Together they raised their children and shared their lives for 26 years until he passed away on June 7, 1976.
Idlee was a 1948 graduate of Warsaw High School and had been a resident of Kosciusko County, Indiana for the past 79 years.  She worked for 18 years for the Kosciusko County Treasurers Office, then worked until 1990 at the Free Methodist Friendship House.  For the next four years she worked as an assistant administrator at Combined Community Services until she retired in 1994.
Idlee always had a heart for helping others and loved to do volunteer work.  For 21 years she volunteered her time at the Kosciusko Community Hospital gift shop.  She also enjoyed the outdoors, gardening, and family camping.  She had patience and an eye for detail, and she kept her hands busy with knitting, crocheting, needlepoint and cross-stitching projects.  Idlee was a lifetime member of Winona Lake Free Methodist Church where she loved to worship with her church family.  She was a wonderful wife, mother, grandmother, great-grandmother, sister and friend to many and will be dearly missed.
She will be lovingly remembered by her son:  Mike (Mary) Armey (Jonesborough, Tennessee); and her daughter:  Brenda (Brian) Lowman (Warsaw, Indiana).  Also surviving are her five grandchildren:  Justin Armey (Mansfield, Ohio); Joel (Becky) Armey (Midlothian, Texas); Zachary Armey (Jonesborough, Tennessee); Stephanie (Matt) Stevens (Warsaw, Indiana); Matthew (Melissa) Lowman (Warsaw, Indiana); eight great-grandchildren:  Wyatt, Olivia, Noah, Ava, Alexa, Prestley, Preston, and Wyatt; and her sister:  Judy (Curt) Binkley (Lehigh Acres, Florida).  She was preceded in death by her parents, husband, sister, Rezelma and her brother, Jake.
Idlee's life will be celebrated on Tuesday, September 28, 2021 at 1:00 p.m. at Winona Lake Free Methodist Church, 902 College Avenue, Warsaw, Indiana and officiated by Pastor Rick Hurley.  Family and friends may visit prior to the service at the church from 11:00 – 1:00 p.m.  A graveside service will follow at Oakwood Cemetery of Warsaw, Indiana.  Arrangements were entrusted to Redpath-Fruth Funeral Home, 225 Argonne Road, Warsaw, Indiana.
Memorial donations may be directed to Winona Lake Community Church (formerly Winona Lake Free Methodist Church), 902 College Avenue, Warsaw, Indiana  46590.
Online condolences may be sent through the funeral home's website at www.redpathfruthfuneralhome.com.