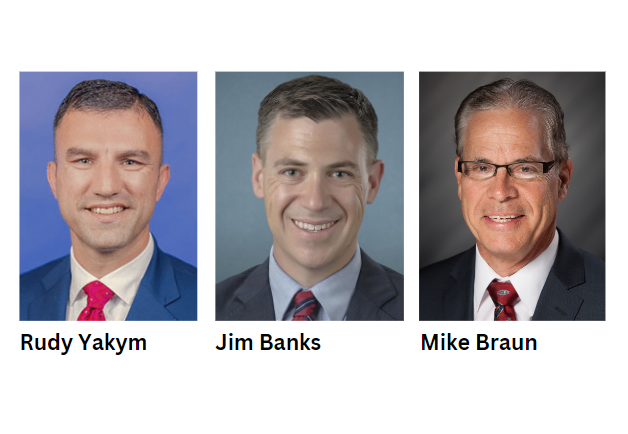 Sascha Nixon
Network Indiana
INDIANAPOLIS — Hoosier leaders are responding to former President Donald Trump's indictment on criminal charges.
Former Vice President and Indiana Governor Mike Pence – who has publicly disagreed with Trump on certain issues in recent months – called the indictment "unprecedented," "an outrage," and a "political prosecution."
He Tweeted, "The American people will look at this and see it as one more example of the criminalization of politics in this country."
Others seemed to agree that this decision is a "political prosecution." Senator Mike Braun released a statement Thursday, in which he said, "Our justice system is being abused as a political weapon…."
Congressman Rudy Yakym echoed similar sentiments, saying, "This deeply misguided decision will only further erode trust in our core civic institutions and electoral system."
Representative Dr. Larry Bucshon said, "This indictment risks damaging the very fabric of our country."
Both men felt the decision would make more sense in "banana republics" and "third world countries," respectively.
Congressman Jim Banks seemingly summarized his opinion on the matter by Tweeting, "This isn't just an indictment of President Trump, it's an attempt to intimidate anyone who goes against the Left's radical regime!"
However, not every Hoosier leader was opposed to the legal action. Representative André Carson said, "I have always maintained that no one – not even a former president – is above the law."
Kip Tew – a former Indiana Democratic Party chair – told WISH TV, "I would just hope that supporters of Donald Trump will withhold judgment, wait until all the facts come out… I hope people with open minds will take a look and say, you know, maybe it's time for the country to move on from Donald Trump because all he is is a drama queen 24/7."
This indictment follows suspicion of a "hush money" payment made to adult film star Stormy Daniels – who says she had an affair with the former President – among other concerns. The charges against him have not been enumerated, though, as they are still sealed.
While it is not clear yet how this will impact his political future, some think it will only make him more popular with his supporters, turning him into a "martyr," of sorts. Many of his opponents, though, would like the indictment to signal the end of his political ambitions.