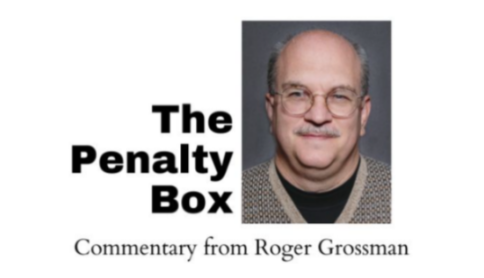 By Roger Grossman
News Now Warsaw
This column is painful to write.
Not like loss-of-life painful. Like "sports-loss painful." It follows the "heroes" and "sports heroes" conversation we had recently.
Notre Dame, at home against third-ranked Ohio State, in the biggest game of the weekend and one of the biggest games of this college football season, came down to a series of "ones" to determine the outcome.
And the outcome was, to be perfectly honest, painful.
The question, of course, is "why"?
The answer is "one."
The biggest "one" was one play.
Saturday's game came down to a final play. With :03 left in the game, Ohio State had the ball at the Irish 1-yard line. The Buckeyes were down 4, so a field goal was not an option. It was touchdown or bust.
Coach Ryan Day had a lot of options for what play to call. They could throw the fade pass to the corners, they could focus on the middle of the field, or they could try to punch it over the goal line.
They chose to run it off the left side of their offensive line, and the running back crossed the goal line by about one foot.
How did they get there?
Ohio State was able to get inside the Irish 5-yard line because they were able to use their one remaining time out at a critical moment of their game-winning drive to preserve the precious seconds they would need.
They had that time and that time out because the Notre Dame defense couldn't get the one sack they needed to back up the Buckeyes and put doubt in their inexperienced quarterback's mind.
And they also had them because Notre Dame couldn't get that one first down they needed from their offense to put the game away. With possession of the ball and a four-point lead, the Irish needed to run the time out and not let Ohio State have one more possession with a chance to win it.
They couldn't.
Why?
After losing five yards on first down of what could have been the clinching drive, Notre Dame was faced with 2nd and 15. Ohio State's defense was selling out with the assumption that the Irish would run the ball and force OSU to exhaust their time outs. But on second down and 15, the Irish attempted an ill-advised, ill-fated screen pass. With all those enemy defenders at the line of scrimmage, the play had no chance of being successful.
The incomplete pass stopped the clock and allowed Ohio State to keep that one last time out.
They did have that time out, they did have time left, they did confidently move the ball down the field and they did have a chance to win the game in its dying moments.
There they were, just one yard away with one play left in the game.
As I watched along with all of America to see what would unfold, something didn't look right. The Notre Dame defense looked funny—not "ha ha" funny … like "something's missing" funny.
I didn't notice it the play before, but as Ohio State broke the huddle something was wrong and I couldn't figure out what it could possibly be, except for the thought that my Eeyore line of thinking was saying "they're gonna lose … they always lose like this, and you'll be miserable for the rest of your life."
It wasn't until an hour after the game ended that I learned what I had seen but not been able to identify in real time Saturday night.
Social media showed me that Notre Dame played those last two defensive snaps with only 10 players.
They were one player short.
They didn't have a defensive end on the right side of their line, which was exactly where the Buckeyes went for the winning score.
Afterward, Coach Marcus Freeman admitted that they knew they only had 10 players on the field, but because they had used their one final timeout with 7 minutes left to play in the fourth quarter, they didn't have a way to stop the proceedings.
And because 80,000 screaming people were doing their best to help their beloved football team win this vitally important game, there was no way to communicate to the defense to jump offsides on purpose just to allow that 1th man onto the field.
They would gladly have traded 18-inches for that one man to plug that one hole.
They didn't have that man. They didn't plug that hole. They didn't win that game.
And no matter what anyone will tell me today, it feels like more than one loss.