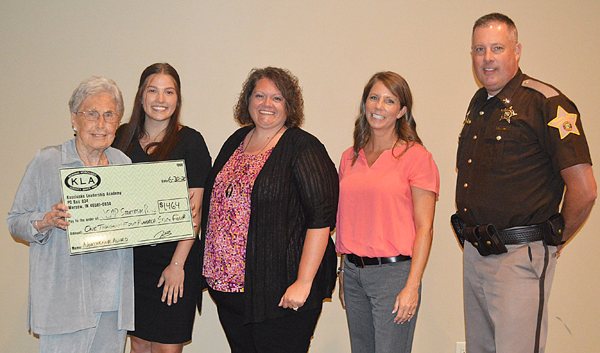 The 39th Kosciusko Leadership Academy graduation celebration got delayed by a couple of months due to the COVID-19 pandemic, but was finally held Tuesday evening with diplomas passed out to the cadets and three awards announced.
Two of the awards – the Northenor Award and the Trustee Award – were given to KLA white paper projects.
Beginning in November and through the rest of the KLA year, cadets work in teams on white paper projects. Culminating the cadets' year, Project Proud is held and the teams present their projects on community topics. A panel of judges then determine who to bestow awards to based on county-wide impact, a scope that is doable within the academy year and sustainability beyond the academy year.
"This year's group of projects, I think, was exceptional in many ways. Jean (Northenor) actually told me after Project Proud, 'I think that was the best collection of white papers I've ever heard,'" Decker said.
This year, the Northenor Award – named after KLA co-founder Jean Northenor – also came with $1,464 from the Northenor Award Fund at Kosciusko County Community Foundation to help get the project going. The project receiving the award was "JCAP (Jail Chemical Addiction Program) Strategic Plan," made up of team members Regan Johnson, Betty O'Hara and Jennifer Zuniga.
"I have never seen a better group of white papers in my 39 years," Northenor said in presenting the award. She said the award winners did a great deal of work and encouraged them to follow through with it.
JCAP has been running in the Kosciusko County Jail since October 2018. It helps jail inmates turn their life around through classes that are up to eight hours a day.
JCAP coordinator Courtney Jenkins was invited to speak about the project, the impact it made and the impact JCAP hopes to make going forward.
She said, "I am incredibly grateful for the acknowledgment that these ladies gave us by choosing us to do their project on. We are just a little organization that is trying to make a big difference in our community. And their help has been tremendous. They came in and the first thing that they did was organize a meeting for all of our" organizations that provide classes and support for JCAP. During the meeting, they brainstormed ideas on "how we can grow the program, how we can work better together, how we can make a bigger impact in what we're trying to do," Jenkins said.
From that, the KLA team helped Jenkins set goals and project out where the program should be and what it should be doing. The team put a brochure together for JCAP that explains what the program is.
"It's just been a huge blessing to us to be able to have their support and help," Jenkins concluded.
The Trustee Award is not presented every year, but included $500 this year and went to the project "Clearly Kosciusko," made up of team members Liz Trinh Dewart and Alan Tio.
"With so many excellent white paper projects, it was inevitable that there would be a Trustee Award and this year's no different," retired Kosciusko County Community Foundation CEO Suzie Light said in presenting the award. "The trustees wanted to acknowledge efforts by presenting a Trustee Award, and this year, brand identification can sell everything from shoes to phones. What can it do to help our much-loved county attract and retain talented people?"
She said the team of "Clearly Kosciusko" – a plan for sustainability to support talent attraction and retention – helped respond to that question. "They built on several past white papers that looked at branding our community, but they took the project to a higher level that bridges a common theme under brand identity that provides transparency for partners using the brand and they know that the brand can speak to a way that we live, work and play in Kosciusko County," Light said.
KLA advisor Nathan Conley presented the Hall of Fame award to Bowen Center CEO Kurt Carlson.
"The Hall of Fame award is something we started six or seven years ago. So we've got the KLA cadets, we've got graduates, we've got trustees, we've got board members, we have sponsors, we have speakers – so many people that are involved in KLA in some fashion," Conley said, adding that Hall of Fame recipients do it because it's in their heart to serve. "All the past recipients have been multiples of those categories – graduates, speakers and so forth. But we see that as a kind of foundation on which KLA has been built over the past 39 years. … We're going to add one more to the list tonight. One of those foundational rocks in our community."
Conley said tens of thousands of people in Kosciusko County and thousands more beyond the county have been impacted by the Bowen Center under Carlson's leadership.
Carlson, surprised by the award, said, "I'm speechless. Wow. That's amazing. Thank you very much. What an incredible honor. The people who have been given this award in the past are truly outstanding leaders, so this is really a privilege to me to be included among them."
Between the award presentations, past award-winning team members gave an update on their projects. Landon Roberts gave an update on "Enhancing Agaitas' Impact On Kosciusko County," which won the 2019 Trustee Award; and Matt Goebel gave a one-year update on "Ice Ice Baby Revisited," which won the 2019 Northenor Award.
This year's banquet was held at The Owl's Nest in North Webster. KLA President Dr. Jeffrey Fawcett gave the welcoming remarks, stating classes start in August and graduation is normally held at the end of April.
"Given the year we've had, the need for leadership is more important than it has ever been," Fawcett said.
He thanked KLA's sponsors, session hots and speakers, as well as KLA's board of trustees and KLA moderator Dr. Allyn Decker "for everything he does because without him, none of this would be possible." The Board of Trustees is already working on the 40th class, he said.
After the invocation by KLA cadet Kearstin Criswell, of Grace College, K21 Health Foundation President and CEO Rich Haddad spoke about leadership and what does it mean to be a leader.
Haddad concluded his speech by stating, "We have an opportunity to make a difference in whatever world around us we're put in. This world becomes better when each and everyone of us individually makes those decisions to do that."
Diplomas were presented to this year's graduating cadets, including: Jill Boggs, sponsored by Kosciusko County Convention & Visitors Bureau; Josh Crabb, Creighton Brothers; Kearstin Criswell, Grace College; Will Day, Alderfer Bergen and Co.; Kathryn Fields, Cardinal Services; Doug Hanes, 1st Source Bank; Regan Johnson, Helvey & Associates Inc.; Andrea Larson, MutualBank (Northwest); Siquilla Liebetrau, Bowen Center; Travis Neff, Turner Valentine; Betty O'Hara, Warsaw Community Schools; Whitney Olson, city of Warsaw; Tiffany Peterson, Lake City Bank; Alexandria Rivera, Lake City Bank, KLA Scholarship; Sherry Searles, LaunchPad; Greg Sebastian, Medtronic; Megan Simpson, Kosciusko Community Hospital; Trisha Steger, Warsaw Community Development Corporation; Tom Tearney, 1st Source Bank; Alan Tio, Kosciusko Economic Development Corporation; Liz Trinh Dewart, Instrumental Machine & Development; Zach Vigar, Instrumental Machine & Development; Paige Whitford, Precision Medical Technologies; Tony Wilson, Medtronic; and Jennifer Zuniga, Instrumental Machine & Development.