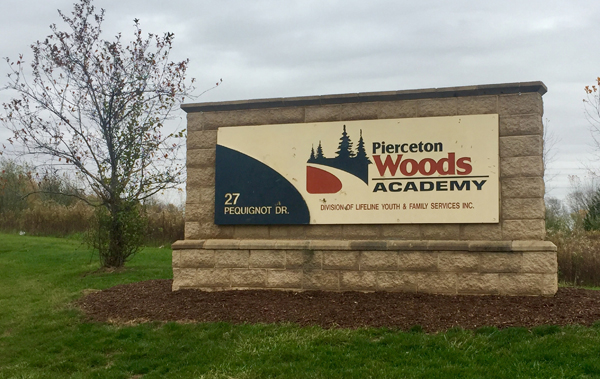 The top brass at Pierceton Woods Academy, along with an employee, were denied their request to be dismissed from a lawsuit alleging sexual assault happened on their watch.
The civil lawsuit was filed by the father of a juvenile who went there and reported he'd been the victim of sexual assault under their supervision.
Pierceton Woods Academy, 27 Pequignot Drive, is a residential placement facility for boys in grades seventh through 12th in need of services. It is a private, Christian alternative school that is managed by LifeLine Youth & Family Services and Lasting Change Inc.
The suit is against Lasting Change Inc.; LifeLine Youth & Family Services Inc.; Darby Ellis Perry, an employee there; Brian Perry, an employee; Joe Gough, vice president of residential services; and Mark Terrell, CEO.
According to court papers, the lawsuit alleges Darby engaged in a pattern of conduct over multiple years where she methodically seduced multiple children to engage in sexual acts with her on the grounds of the academy and at local venues during unsupervised outings with the minors. The lawsuit alleges the outings were permitted by LifeLine and Lasting Change, "in conformity with the institution's lax policies."
The suit claims both LifeLine and Lasting Change were negligent and owed a duty to prevent sexual assault against the residents under its charge.
The suit claims that in 2017 Darby was the suspect of an investigation with law enforcement involving accusations of sexual assault on another resident at the academy. Other staff members there also told of Darby's inappropriate activities, the suit alleges.
The lawsuit further says that LifeLine and Lasting Change took no preventative actions in response to the 2017 accusations and investigations against Darby but rather promoted her and kept their "deficient policies in place to protect residents from sexual assault by its employees and agents."
The lawsuit goes on to say that Lasting Change and LifeLine allowed Darby to take minor residents to areas of the campus that are not recorded or visible to third parties and on unsupervised outings off premises. The company allegedly did not require more than one staff member to go on the off-premise outings as a cost-saving measure, according to the lawsuit.
The suit alleges all defendants engaged in a conspiracy to "negligently operate the Pierceton Woods facility in disregard for the well-being of its residents, namely failing to protect them from sexual assault," even after the situation was investigated by the Indiana Department of Child Services and Pierceton Police Department, who both allegedly determined the offenses have occurred, according to the suit. The suit further claims that Darby continued to have access to the building where residents lived during the investigation.
In December, Bryan Perry, Gough and Terrell asked the court to dismiss them from the lawsuit, citing they did not conspire by the legal definition to be held liable.
On Monday, Kosciusko Circuit Court Judge Mike Reed denied that motion to dismiss, saying "although the allegations are not fact specific to the extent they could be, it is clear from the joint motion to dismiss and the argument of counsel that the defendants are on adequate notice as to the claims stated and they are able to properly investigate and prepare a defense to these claims."