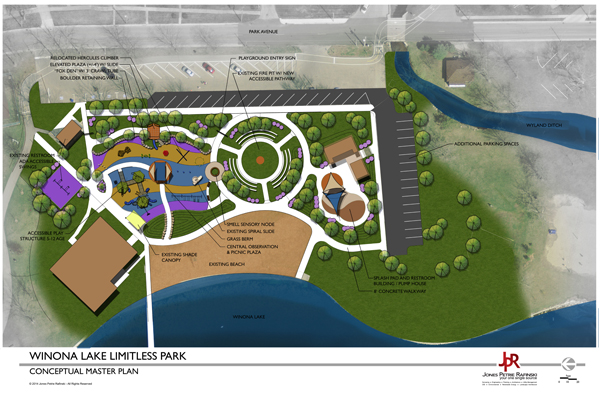 Kosciusko County Community Foundation awarded a Community Funds Grant of $17,500 to the town of Winona Lake to help fund the planned completion of Limitless Park.

Winona Lake Limitless Park's "Countdown to Completion" campaign was launched in 2021 and aims to raise $1.3 million through public grants and private donors, according to a news release from the Foundation. The final phases of the park's development will include an upgrade and extension of the playground, new interactive elements, improvements to the beach and greater connectivity throughout the park.

"We really appreciate the Community Foundation partnering with us to complete the vision of Winona Lake Limitless Park," said Parks Director Holly Hummitch. "This project will positively impact Kosciusko County residents and visitors for generations to come."

Winona Lake Limitless Park is a busy attraction in Kosciusko County, the release states. Hummitch, along with town staff, community volunteers and committee members have worked hard in recent years to develop the site into an inclusive environment to cater for people of all abilities.

Since 1968, Kosciusko County Community Foundation Inc. has helped donors achieve their charitable dreams. The Community Foundation is a public charity that grants over $6 million annually in the areas of education, health, arts and culture, recreation, civic projects, environment and human services. Gifts made to the Community Foundation are tax-deductible. For more information, call 574-267-1901 or visit 102 E. Market St., Warsaw.