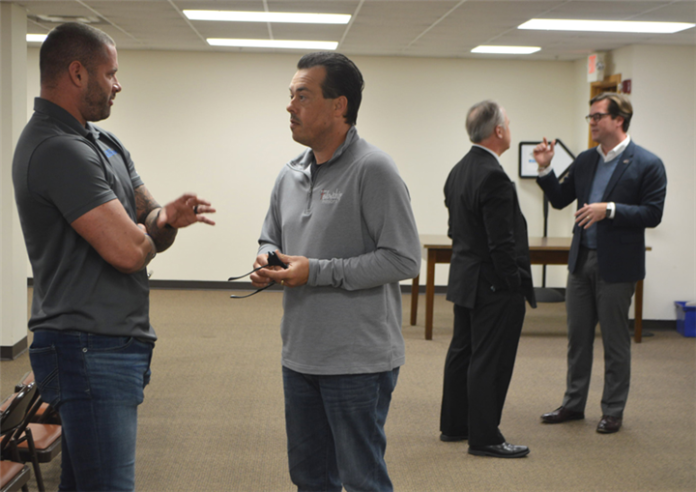 An old African proverb says it takes a village to raise a child.
Speakers at the Kosciusko Coalition on Drug Education (KCODE) 30th Anniversary Open House and Kosciusko Cares and Drug Free Kosciusko Drug-Free Communities Celebration Monday talked about how it takes community collaboration to prevent drug use and help people recover from addiction.
Heidi Blake, KCODE coordinator and Kosciusko Cares Drug-Free Communities director, said the mission of Kosciusko Cares is to eliminate or prevent youth substance use. They focus on prevention and helping youth make healthy choices, as well as partnering with families.
She said they received a $1.25 million grant in a partnership with the Bowen Center through the White House Office on National Drug Control Policy and Center for Disease Control. One of the focuses with the grant will be "building our coalition," she said. The other focus is reducing youth substance use.
"So that will be our main focus, honestly, for the next couple of years, is making sure the right people are at the table and we are communicating and working together," Blake said.
The Drug-Free Communities grant recognizes that local problems need local solutions, she said. "With this DFC grant, we are able to specifically work on the issues that we are seeing in Kosciusko County."
Blake reiterated that one area they will be focusing on is establishing and strengthening collaboration, "which is huge." She said the local speakers Monday would talk about what their organization does and how it relates to community collaboration.
Brad Voelz, Kosciusko County chief deputy prosecutor, said when Blake asked him to speak about a collaborative community, he thought about it and realized he was involved in a lot of collaborative communities in his job.
"We collaborate between courts and probation departments and home detention, work release, law enforcement and all of those that we work with on a daily basis," Voelz said. "We're involved in … Judge Reed's Drug Court. We collaborate there. We have members of the Care community and Serenity House and the Mission and probation and the court system, and we all collaborate there."
Voelz said they're advocates and helpful with the teen court, doing a lot of collaboration there.
Eric Lane, Fellowship Missions executive director, said the resources that Kosciusko County has, and its willingness to help individuals is "above any I have ever seen." He said the county has something "very unique" here and "it's because that collaboration has to happen because not one organization has every resource that they need to help that individual. We talk about that it takes a village to raise up, it takes a village to help individuals that we're helping in our community."
He said it's neat to see how the community comes together, though there's still work that needs to be done. "This type of organization, other organizations that look at collaboration, are key and vital to our community to see our community grow and see those inside our community that need the help to grow."
Kosciusko Cares Director Melanie Wilhite said along with working to prevent youth substance use, Kosciusko Cares also works with families "because families are the first line of prevention.
"At Kosciusko Cares, without collaboration, we don't have anything. So, we do a lot of collaboration with various schools on different kinds of programs. We work with youth on substance use programs. We work with some mental health. Healthy decision making. Anger management. All those sorts of things. And then we do work with churches as well," Wilhite said, as well as a number of other organizations.
Fort Wayne Recovery and Allendale Treatment Community Outreach Coordinator Tommy Streeter, who is from Kosciusko County, said he is a person in long-term recovery.
"For me, my whole job and kind of purpose, I feel like, is all about building relationships in the community. So, KCODE has been awesome for me personally for all the relationships that I've been able to build with everybody in this room, and some people who aren't in this room," Streeter said.
One of those relationships he wanted to highlight specifically was one that he didn't think he would ever form and that was with law enforcement. Streeter said DARE officer Roy Navarro has had him come in to speak to students at the DARE graduations, something he never thought he'd be able to do. Winona Lake Police Chief Joe Hawn and officer Joe Bumbaugh, along with other Winona Lake and Kosciusko County Sheriff's Office officers, call Streeter when they encounter someone who could use help instead of jail time, he said.
"The relationships I've been able to build have been awesome, but the main one for me has been the relationship I've been able to build with law enforcement and I can not be more appreciative for that," Streeter said.
Tammy Cotton, Living In Transition Effectively (LITE) coordinator, said LITE is a nonprofit she founded a couple years ago. Its purpose is to prepare those who were incarcerated for re-entry into the community. Its goal is to reduce recidivism and its method is "providing connections, tools and support to those we serve by collaborating with others," Cotton said. "Collaboration is the key. I say that all the time. We work inside and outside the jail."
The LITE building is in Milford and is called the Milford Methodist Meeting House. "We want that to be a safe place for people to come for resources," Cotton said.
They are working on adding more classes and programs in Milford. LITE is opening a women's recovery home in Milford hopefully by next year, Cotton said.
"All that we do depends on collaboration, and it's people like all of you in the room … we all have to work together. We can't do this on our own because we all have different resources and skill sets so we all need each other to help these people succeed," Cotton concluded.
Prosecuting Attorney Dan Hampton said, "The buzzword – if you haven't already assessed it – is collaboration. When I started prosecuting in 1988, back then it was put them away for as long as you can and throw away the key. … Now, it's evolved through the 2000s, which I totally embrace, which is a community effort."
The term community policing has been around since 2002 and it's evolved into a "very good philosophy," Hampton said. "And has evolved into a community collaboration."
Through Kosciusko County's system of collaboration, "with all of us on KCODE and with all of us on Kosciusko Cares and all the other organizations we've got represented here today, we're able to communicate with each other and share each other's resources and communicate and address problems as a community. That, in of itself, speaks volumes with Kosciusko County. We've been able to really take that to the next level," Hampton said.
Keynote speaker was Douglas Huntsinger, executive director for Drug Prevention, Treatment and Enforcement and chairman of the Indiana Commission to Combat Substance Use Disorder.
At the end of his half hour talk, Huntsinger noted, "I heard a little bit of the reports in the back, and it's always great to hear communities that understand that community collaboration and that community-based approach, that's where the successes happen."