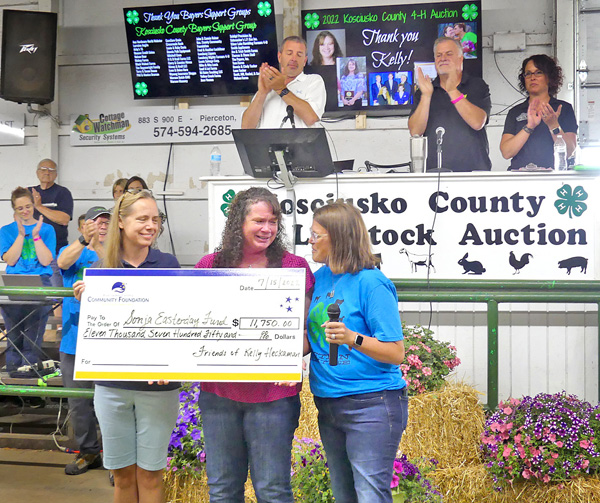 Kelly Heckaman was surprised when her husband said he wanted to go to the Sale of Champions at the Kosciusko County Community Fair Friday.
She was even more surprised and in tears when she was honored for her service to 4-H after the sale.
She was honored by Kosciusko County's 4-H Youth, Extension Board, 4-H Council, 4-H Dairy Committee, Cattlemen's Association, 4-H and Extension Volunteers and community leaders and businesses.
Heckaman served as Kosciusko County's Agriculture and Natural Resources (ANR) Extension educator for 26 years. She is being moved to District 11 to serve as the ANR director. Kosciusko County is District 10.
Dr. Jason Henderson, director of Extension, Purdue University Extension, said when he first met Heckaman, Henderson got his first real interview because she asked a lot of questions. He said Heckaman epitomizes that at the Extension: people with a passion and purpose to serve the community.
Henderson said he felt her being the ANR district director for District 11, which includes Allen County, would be a good fit. He said he had a job for her to do in District 11 and Heckaman always gets the job done.
When he called to talk to her about it, Henderson said her first question was, "What about Kosciusko County, and someday, can I come back?"?He said it's always been about Kosciusko County for her.
Kassi Rowland, superintendent of the Livestock Auction Committee, said Friday she had the opportunity to work with and know Heckaman over the years. Heckaman has worked tireless through the years.
Tyler Bouse, 4-H Council president, said Heckaman has been instrumental in getting things done, calling her the captain of the ship. The hours she puts in behind the scenes for Kosciusko County  often times goes unseen. Not all of the hours were in the office.
Bouse said Heckaman would always be welcome in Kosciusko County and he knew she would always be involved.
If you are involved in livestock, forages, crops, horticulture or any topic related to agriculture, you have most likely been invited to join Heckaman in a workshop, forum, training, program or Zoom. Those people involved in 4-H and Extension realize her efforts went beyond ANR programming, according to a news release provided by 4-H.
Heckaman is the co-chair of the Women in Agriculture Team and has been involved with that team since the beginning. In 2002, Purdue Extension hosted the first Midwest Women in Agriculture conference. Due to its popularity over the next several years, the annual event led to the formation of the Purdue Women in Agriculture Team in 2006.  The team's goal is to help address the educational needs of women employed in or involved with the agricultural industry.
Heckaman has been a member of the Succession Planning Team at Purdue University that assists families planning the transfer of farms to the next generation. The succession planning process incudes considerations for financial well-being, farm management and risk assessment.
Historically, Heckaman's "job" doubled and, even tripled. During absences of educators, she became a 4-H and youth educator. Her responsibilities grew to include 4-H pre-fair and fair judging, and all of the events associated with 4-H.
For 26 years, she took the lead as the organizer, promoter and facilitator of the 4-H Livestock Auction.  Heckaman has a passion for the dairy industry, particularly Guernsey's, the release states. She took this passion into volunteerism by leading the dairy judging team and taking a vital role in the development of the 4-H Dairy Lease program.
Kay Tusing, 4-H Dairy Lease Program, said Friday that in eight years, the 4-H Dairy Program went from having less than 10 kids in the program to having over 50 kids due to the help from Heckaman. She said the program owes everything to Heckaman and it was due to her the program was where it was. Tusing said the Dairy Program wasn't going to let Heckaman go and made her an honorary member of the program.
Rowland and Stephanie Overbey, CEO of the Kosciusko County Community Foundation, presented Heckaman with a check for $11,750 for her mother's fund, the Sonja Easterday Fund. Friends and supporters of Heckaman raised the money in her honor.
The fund in Sonja Easterday's name was due to Easterday's love for 4-H and everything Easterday taught Heckaman. The donation will continue to support the Kosciusko County 4-H Charity Project, the Wawasee FFA and Rochester FFA.
Being recognized was a supprise to Heckaman. After being presented the check, Heckaman said she had some suspicions when her husband said he wanted to go to the auction and "I felt that was strange. He hadn't gone to the auction in how many years. Then I figured he just wanted to go to the auction."
Heckaman thanked everyone. She said it "was not easy for me to leave here."
She said the generosity was touching.