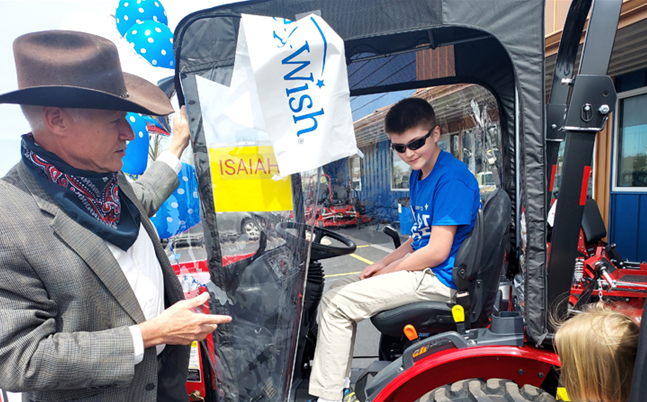 By Jackie Gorski
Times-Union
SILVER LAKE – Kerlin Tractor and Motorsports, Silver Lake, helped fulfill a Make-a-Wish request Thursday.
Twelve-year-old Isaiah Rittichier, from the Hartford City area, has acute lymphoblastic leukemia, a type of cancer of the blood and bone marrow. Rittichier's wish was a tractor.
Kerlin Tractor and Motorsports co-owner Valerie Warner said the Make-A-Wish program contacted the business about Rittichier's request and how Kerlin could participate in making a wish come true for a child. She said she was honored for Kerlin to be part of the program.
The Mahindra subcompact tractor Rittichier was paid for by Make-A-Wish, which was discounted by Kerlin for the program, Warner said.
Rittichier is planting his own crops and selling them at a farm stand, where all the proceeds go to Riley Hospital for Children.
Jessica McBride, mission fulfillment specialist with Make-A-Wish of Ohio, Kentucky and Indiana, said in Rittichier's paperwork, he listed one of his hobbies as growing peppers, mainly cayenne peppers. He said he cuts them up and puts them in with other food.
Rittichier's family farms about 200 acres and Rittichier will be farming about 20 of those acres with the tractor. Crops like lettuce, sweet corn and squash will be planted.
Rittichier knew what he was getting, McBride said. Rittichier said he's always wanted a tractor. He "wasn't really big" on the type of tractor as long as it worked and he left that decision to his parents.
Rittichier said he's been helping on his family's farm pretty much his entire life.
McBride said the Make-A-Wish program is for critical illnesses. A lot of people think the program is for terminal illness, but, to qualify, the person has to have a critical illness.
A wish can be that spark that helps these children believe that anything is possible and gives them the strength to fight harder against their illnesses. This impact is why the program is driven to make every one of these wishes come true, according to the Make-A-Wish website.
The child is submitted to the program by a family member, social worker or a physician, McBride said. A medical team must also sign off to say the wish is viable. Because of the type of wish Rittichier made, it had to go through a board for approval. McBride said farm equipment is not a common wish for the program and is the first she's seen in her tenure with the program and the second within the last couple of years.
McBride said the day the child receives his or her wish in the program is the most exciting part of the process. She said the best part was the first look in the child's eyes when they see what they're getting.
Warner said she hopes the tractor makes work easier for Rittichier and helps him be able to grow more.
The Make-A-Wish Foundation® of Ohio, Kentucky and Indiana, Indiana Region, is at 7330 Woodland Drive, Suite 201, Indianapolis, IN 46278. Its office phone number is 317-636-6060.