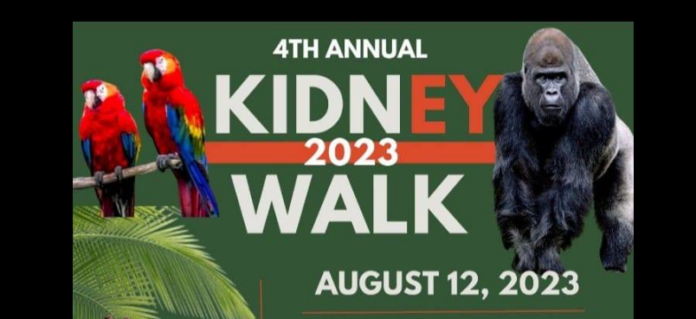 By David Slone
Times-Union
WINONA LAKE – Kids with kidney disease will be highlighted during the Kidney Walk on Aug. 12 in Winona Lake.
William Corey Southall, 39, host of the Kidney Walk, said registration starts at 8:30 a.m., with the 2K run/walk starting at 9:15 a.m. at 1590 Park Ave., Winona Lake. It's rain or shine.
"This benefits the American Kidney Fund," he said. "Years ago, I benefitted from this fund, I believe in 2014, through a crazy time in my life. It did help us with a Christmas benefit of $100. Since then, I decided I would start a kidney walk to make sure that fund kept going. This fund is available for all dialysis patients – anyone who is on kidney dialysis or anything like that."
American Kidney Fund's website can be found at https://www.kidneyfund.org.
This year's walk is the fourth one Southall has hosted, with the ultimate goal of the event being to get the word out about kidney disease. The first three were held in 2015, 2016 and 2017, but then Southall decided to have the walk every other year due to the amount of work and time it took for him to organize it.
However, in 2018-19, Southall worked on getting a kidney transplant, but didn't get his transplant until Nov. 9, 2020. He's been dealing with kidney disease himself for 13 years.
"I had no problems after the transplant. Everything went really well. No hiccups. Everything went really smooth. I went back to work. I got the kidney Nov. 9 and I was back to work March 24. Last year I had a little bit of a scare, but they worked everything out," he said.
For the 2023 walk, Southall said they're highlighting kids on dialysis.
"Every year I try to do something different with the kidney walk. The first year was the introduction, 'Together We're Stronger.' The second year was about fighting, 'Knock out Kidney Disease.' The third year was 'Going Green' and that was just to let people know what our ribbon was about – and we were the color green," he said. "This year, we wanted to handle the dynamic of kids on dialysis because they are the true heroes."
The theme for this year is "Unleash Your Animal Strength Against Kidney Disease."
The families of children on dialysis are so affected by it, too, he said, by worries, money, time and more.
"So I just really wanted to highlight the kids on dialysis," he said.
\About 10,000 children in the United States do have kidney disease, he said.
Kidney disease means your kidneys are damaged and can't filter blood the way they should, according to the National Institute of Health. You are at greater risk for kidney disease if you have diabetes or high blood pressure. If you experience kidney failure, treatments include kidney transplant or dialysis.
Southall said, "Kidney disease is renal failure. It's basically when the kidneys shut down, and when they shut down – kidneys filter so much. They filter your blood. They do so much in your body. And when they shut down, there has to be something to filter that down or you fill up with fluid. They filter your urine, they filter your blood, they help do a lot."
Dialysis is a type of treatment that helps your body remove extra fluid and waste products from your blood when the kidneys are not able to, according to the National Kidney Foundation website. Dialysis was first used successfully in the 1940s and became a standard treatment for kidney failure starting in the 1970s. Since then, millions of patients have been helped by these treatments.
On the Aug. 12 Kidney Walk, Southall said, "We have a lot of community involvement. They can win prizes throughout the walk. There's a chef that's going to be there. There's a lady that actually donated a kidney and she's going to talk about the donor process, and I'm going to talk about the kidney process."
There will be winners in the race/walk, with first-, second- and third-place runners. It will be timed.
To register and learn more, go to this website.