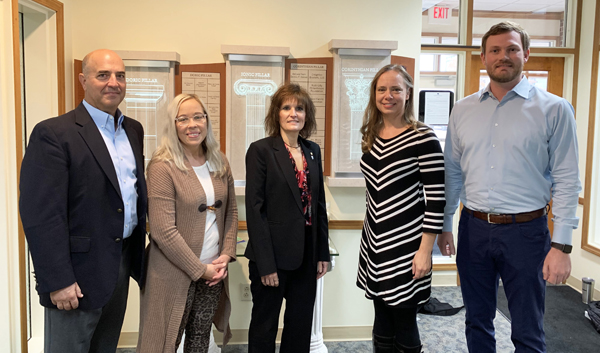 The latest Kosciusko Leadership Academy session was at the Kosciusko County Community Foundation.
On Nov. 16, KLA cadets got an overview of philanthropy in Kosciusko County from CEO Stephanie Overby at the Kosciusko County Community Foundation (KCCF). Rich Haddad, president and CEO of K21 Health Foundation, spoke about the role of a private foundation in philanthropy. The cadets also learned the basics of estate planning from Lili Dailey, Lake City Bank, wealth management.
Community foundations have become the fastest growing way to give in the United States, now with one in every Indiana county, according to a news release provided by KLA. Since being established in 1968, The KCCF now has over 300 endowment funds, almost $80 million in assets and awards $2.5 million annually to charitable organizations.
The cadets also learned about the private K21 Health Foundation and its rules of distribution and eligibility of organizations. In 22 years, K21 Health Foundation has granted $60 million to benefit Kosciusko County residents.
Lili Dailey, LCB trust officer, explained the importance of estate planning, which includes having an updated will, named beneficiaries, living will and other healthcare documents. She helped cadets make the connection between wealth management and charitable giving.
The work of these organizations and others is a testimony to the generosity of those who invest in the lives of people in Kosciusko County. "We live in a very blessed community, but it's not by accident," said KLA moderator Allyn Decker.
The next KLA session will cover the orthopedic industry in Kosciusko County at the city of Warsaw's council chambers on Tuesday.
KLA is in its 40th year of service to the county. As an independent 501(c)3 organization, KLA conducts biweekly morning sessions around the county to expose leaders to a wide variety of local topics and experts. The annual whitepaper projects have yielded many benefits to the citizens of Kosciusko County, the release states.
For more information, visit www.kocsciuskoleadership.org.