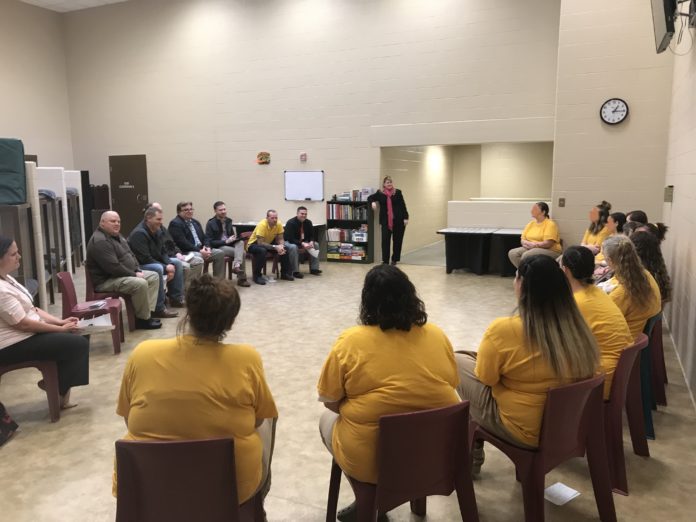 The Kosciusko County Sheriff's Department is gathering information to potentially start a Jail Chemical Addictions Program in our county.
As part of the process, they visited the Dearborn County Sheriff's Department in Lawrenceburg to see their JCAP program in action. Sheriff Rocky Goshert, Lieutenant Don Wiesehan, and Captain Chris McKeand were among the visitors, along with local mental health professionals.
The group took a tour of the facility and talked to a Dearborn County Judge Sally McLaughlin about the program's impacts. She told them that they have seen a reduction in repeat offenders once they have completed the Jail Chemical Addictions Program.
Captain Chris McKeand tells News Now Warsaw the Sheriff's Department hopes implementing a Jail Chemical Addictions Program in Kosciusko County would have the same effect, breaking the cycle of addiction to not only reduce the inmate's future criminal activity, but to introduce positive behaviors to the inmate's family and children.
"It just kind of cuts the cycle if you're able to get them off the drugs themselves, that's what it's all about," he explains.
McKeand says the Kosciusko County Sheriff's Department was contacted by the Attorney General's Office about the program initially. They've then spoken to the County Commissioners and County Council about adding the potential program.
Last month the Sheriff's Department applied for an Indiana Department of Criminal Justice Institute grant, which they're expecting to hear back about this month.
They are applying for two other grants in the near future. They hope to use grants to operate the JPAC for the first two years.
A JPAC program currently runs in Boone County in addition to the one in Dearborn County.