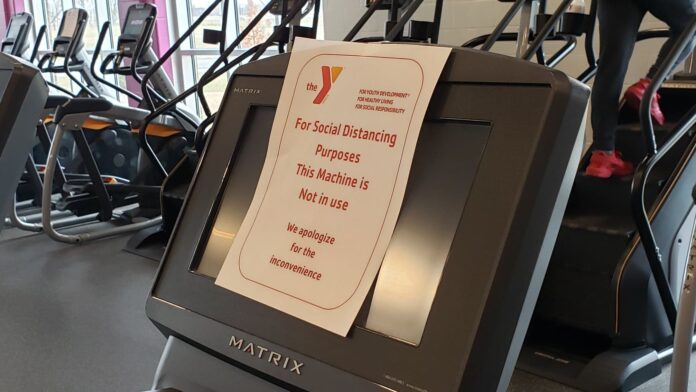 It was much quieter on Monday at the Parkview Warsaw YMCA, as the coronavirus is keeping more people at home. Only a handful of people were using the weights, or running on the treadmills, and several kids were seen playing basketball in the gym.
In the fitness center, notices were put on every other cardio machine, whether it be treadmill, bikes, elliptical or the stair climbers, so that members would keep social distancing between each other. Those machines with the notices were turned off.
On Monday, the YMCA posted the following notice and restrictions on their website:
Members, Program Participants, and Staff,
The Kosciusko Community YMCA (Parkview Warsaw and North Webster) remains committed to providing a safe and enjoyable experience for everyone. During this time of uncertainty, we want to balance the need for exercise and the benefits of social distancing. In support of our community, the health care system and based on conversations and guidance from local public health officials and YMCA resources, we are suspending additional programs and services until the end of the Month or until further notice.
At this time the YMCA will continue to remain open during regular business hours and Spring Program registration is still set to run as scheduled. Registration for Spring Programming will begin March 23rd for YMCA members and March 30 for community members with programming beginning April 13th. However, we wanted to take a moment to communicate changes to our current programming and services. 
As of 2:00 PM, Monday, March 16th the following programs and services will be suspended through March 30th:

We will temporarily be suspending entry to all non-members and anyone attempting to use a guest pass to visit the YMCA. 
No one under the age of 16 will be allowed in the facility
We are suspending all live Group Exercise programming including Water Aerobics.
We will suspend sauna use
We will suspend all gymnastics programming. 
We will temporarily suspend all chronic disease, DPP, Livestrong, BPSM and Enhanced Fitness classes
All programming including swim lessons, youth sports, and adult leagues will be suspended. We will keep all participants informed of our revised schedules in the coming days.
We will suspend our School age Childcare, Multi-Generation room, and Child Watch programming. 
We will temporarily suspend all organized games (basketball, pickleball, etc.)
What the Kosciusko Community YMCA (Parkview and North Webster) is doing:

We have informed all staff about best practices to minimize transmission.
Our Cleaning Crew and Member Experience teams are cleaning more frequently high-touch areas such as door handles/pushes, tables/countertops, phones, handrails, etc.
We have posted additional hand sanitization stations (while supplies last) throughout both of our Y's.
We are being vigilant in keeping our facility floor and equipment clean.
We have posted signs throughout our YMCA's encouraging hand washing and best hygiene practices.
We are actively working toward broadcasting group fitness classes live on our Facebook page for members and the community. More updates will be coming soon. 
Please continue to:
Practice good hygiene as recommended on the CDC website. 
Please do not visit the Warsaw Parkview YMCA or the North Webster YMCA if you are experiencing symptoms such as coughing, fever, or sneezing.
Begin practicing social distancing while working out. The CDC defines this as maintaining distance (approximately 6 feet or 2 meters) from others when possible – this is especially important for seniors and individuals who are at a higher risk of getting very sick.
Be considerate of others and wipe down your equipment after use. 
One of the priorities of the Kosciusko County YMCA has always been the health and safety of those we serve. We are in close contact with and activity monitoring updates from the CDC, Kosciusko County Health Department, Y-USA, and our local health professionals.
As new developments emerge, changes may take effect without advanced notice. Your patience is appreciated. If at any point we are advised to suspend additional programming or close the Y we will communicate it immediately via email, social media, and our website.