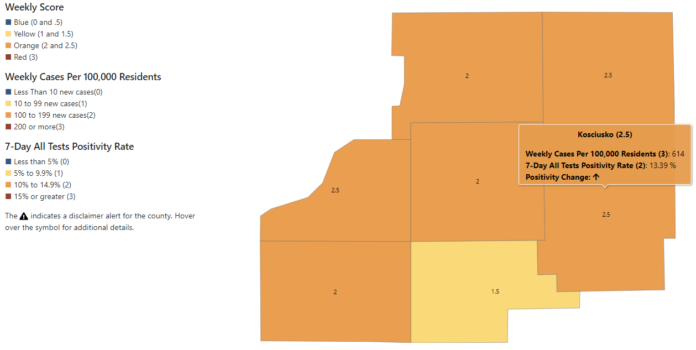 Nearly 80% of the people testing positive for the coronavirus are under 60 years old, but they're spreading it to those over 60 who are more likely to die from COVID-19.
That's just one statistic Mayor Joe Thallemer pointed out Friday during the biweekly press conference at City Hall on the pandemic, which was held virtually. Kosciusko County Public Health Officer Dr. William Remington also emphasized how the pandemic is affecting local health care facilities.
"Last Friday, we called a hastily arranged press conference to raise the level of community awareness as to the increase of COVID-19 last week. I think today, we're issuing a much higher level of concern and plea to follow safety precautions to help prevent spread," Thallemer said.
On Oct. 13, from the state's standpoint, Thallemer said the daily case count was 1,151. Three weeks later, the number of new cases in the state hit 4,000 for the first time. Since Nov. 6, the number of new daily cases in Indiana hit 6,654. The seven-day positivity rate is 10.5% in the state, he said.
Kosciusko County hit a new daily record Thursday of 154 cases.
"This was something that was stunning to me as I looked at it this morning," Thallemer said as he pulled up some demographics. "This is the last 30 days in the state and this just shows … the demographic, the age groups that are being impacted that are testing positive for COVID-19. And by my math, 77% of those under the age of 60 are affected by the virus. The rest are over the age of 60. So, when we look at the death rate, and we look at the demographics for death in the last 30 days, 92% of the deaths are over 60."
He said, "The point we're trying to make is that the death rate is impacting those over 60, 92% of those that have died from COVID in the last 30 days are over the age of 60. And those that are spreading the disease are under 60; 77% of the cases are under the age of 60. I think that's compelling. Again, I think it's a logical conclusion that 77% of those under the age of 60 are spreading the disease to the older population that are being hospitalized and dying."
To those who say they're not concerned about getting or spreading the disease, Thallemer said, "If we look at the science, the hospitals are filling up and people are dying as a direct result of the uncontrolled community spread that is occurring."
He said there's been a dramatic shift in the state's coronavirus map colors and it's almost totally orange. Orange is the color right before red, the most severe.
"I fear we're heading toward the red," Thallemer warned.
The Center for Disease Control updated its literature search Tuesday on the use of cloth masks. It highlighted seven studies confirming the benefit of community use of cloth masks.
Reading the conclusions, Thallemer said, "Experimental and epidemiological data support community masking to reduce the spread of SARS-COVID-2. The prevention benefit of masking is derived from the combination of source control and personal protection for the mask wearer. The relationship between source control and personal protection is likely complementary and possibly synergistic, so that individual benefit increases with increasing community mask use. Further research is needed to expand the evidence base for the protective effect of cloth masks and in particular to identify the combinations of materials that maximize both their blocking and filtering effectiveness, as well as fit, comfort, durability and consumer appeal. Adopting universal masking policies can help avert future lockdowns, especially if combined with other non-pharmaceutical interventions, such as social distancing, hand hygiene and adequate ventilation."
While more studies are needed, Thallemer said the evidence seems to be clear that community masking is a simple way to take care of this problem.
Given the increase in numbers, new record of daily positives, the positivity rate and other data, he said the city is taking a number of precautions for the health and safety of its employees.
As of Monday, except for that night's City Council meeting because a public hearing already has been scheduled, all city buildings including City Hall will remain open but in-person business will be by appointment only until further notice. Public meetings will be virtual to the public and press until further notice.
On Thursday, Thallemer signed an executive order establishing a pandemic telework policy. From Monday, Nov. 16, until the end of the year, on a case-by-case basis, if practical, city employees may be able to work from home and be paid for circumstances related to the protection of their health.
Further adjustments by the city will be made as necessary.
Remington said the last three weeks have been phenomenal with the county's experience with the pandemic. It's ebbed and flowed over the last six months, but he said the last three weeks have been really surprising and sobering.
"I'm hearing more voices in my ear from hospitals and hospital providers of health care that are very anxious, painting a very dire story, quite frankly. People showing up in an emergency room with chest pain may not have quite the same accommodation of care and the level of care as they would have traditionally received a month ago," Remington said. "There is such consumption of healthcare resources – whether it be personnel, physical space, bed capacity, access to procedures – it is so compromised by COVID that routine care is starting to feel it. Your future care could be compromised."
He said the county is on a trajectory that is "very, very worrisome" and county statistics are very sobering with over 3,000 cases.
In District 2, which includes South Bend and the counties of St. Joe, Elkhart and Kosciusko, 50% of the ICU bed capacity is consumed by COVID cases, Remington said. Schools are increasingly compromised, not  so much from the burden of sick kids filling up a classroom, but from the burden of isolation and quarantine, taking out not only students but staff and teachers.
"It's not simply more testing. It's not simply more cases. There is a clinical weight to this and it could impact your future access to services," Remington said.
Now is time to pivot to a new paradigm of strength of interventions, he said. On Wednesday, Gov. Eric Holcomb announced Indiana was leaving Stage 5 and moving into a new model of county-by-county color-coded map to target interventions. Kosciusko County is an "orange" county as of Friday, but Remington said it could tip into "red" in the next week or two.
To business owners, he said he wanted them to look at the restrictions that a red county would be faced with because he thinks Kosciusko is heading there. He emphasized masking and social distancing and said they work, though not perfect.
He asked restaurants and bars to look at the restrictions. "There will probably be some more strong-armed, I would suggest, enforcement coming your way from the health department. All it takes is a resident complaint to drive us to look at the situation. We will try to work with every business, every restaurant, every organization as we can to try to steer you in the right direction. But there will be times we will look more strong-armed than we have been, so please comply with these general health guidelines," Remington said.
Asked later during the question-and-answer session to expound more on restaurants and the "strong-armed enforcement" of the guidelines, Remington said, "The ultimate step, of course, that the health department can take and has been taking around the state, depending on the department, is the pulling of food license. That is not our desire ever, over these kind of issues, we'd much rather work with you. But understood that if we are serving a complaint from a citizen and we enter your premise and you are unwilling to work with us, we have that ultimate action. We can pull a food license."
Thallemer said he spoke to some restauranteurs Thursday specifically about that, as well as participated in a call earlier this week with health and elected officials and on took part in a call Thursday with over 70 other mayors.
"Enforcement is obviously a question on everyone's mind. I know the health department certainly wants the support of the local elected officials should they decide to enforce. Hospitals were pretty vocal about their desire for local elected officials to get behind the enforcement because of the difficulties the hospitals are seeing right now. Some of them are at capacity or are getting close to that. Those on the frontlines are feeling this the most and are desirous of some type of action," Thallemer said.
He said the state wants local officials to enforce the restrictions and if more restrictive measures are required because of local conditions, the local governments and primarily health departments are empowered to do that.
"I feel like, in this county, we've done a very good job to this point. What's happening here is happening all over the state, all over the Midwest, all over the country. We're trying to respond the best way we can, the most effective way we can," Thallemer said.
He said business owners requiring and enforcing the wearing of masks is important, and that includes restaurants. The six-foot distancing also is important.
"If this continues as it is, if we continue to go up 1,000 cases a day in the state for the next few weeks, the hospitals will be overrun and we'll be in a world of hurt," Thallemer said, adding that businesses should take on the responsibility to control and enforce within their businesses masking, social distancing and other precautions.
City Councilman Mike Klondaris read a prepared statement on behalf of the Council. It asked everyone who can to mask up to help keep schools open and prevent healthcare providers from being overwhelmed and overburdened so they can save lives.
"The life you save may be your own or someone you care about," he concluded.
Thallemer said there is an ample supply of free masks at Fire Station 2 along Center Street.
Bowen Center CEO Kurt Carlson provided a brief update about the Bowen Center Health Clinic on Dubois Drive.
He said during the first week they were open, they did 328 tests; 741 the second week; 1,032 tests the third; and 1,413 tests this past week. He said it's going up exponentially because people are more aware of the free testing and due to the surge, more people are being required by their employers to get tested.
It's now fully staffed with bilingual and bicultural staff. He thanked the Northern Indiana Hispanic Coalition for their support.
"Our current biggest challenge is the supply of the test kits. The state had made predictions about the number of tests to be done, each site and each week, and I think the state is far in excess of what the state had originally planned for, and so I think they're trying to step up knowing that there's probably, in the last three months, they've used what was predicted to be six months of testing," Carlson said.