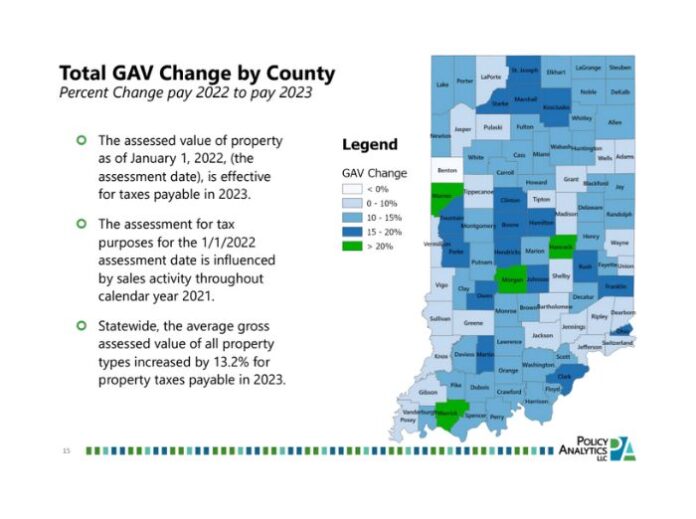 By Dan Spalding
News Now Warsaw
WARSAW — Tax experts are warning that residential property owners in Kosciusko County and across the state will likely face some sticker shock in the next few weeks when they receive property tax bills.
The housing market boom two years ago sent home prices soaring with the average home value rising nearly 16 percent, according to data being distributed by the Indiana Association of Counties.
County Auditor Rhonda Helser and County Assessor Gail Chapman met with News Now Warsaw Thursday and warned that residential markets outpaced commercial and farm properties, which means homeowners will pay a bigger share of the bill.
The COVID pandemic, the recession and the recovery in 2020 and 2021 created conditions for "extraordinary changes" in assessments and tax bills in "pay-2023," according to a statewide report provided by Helser
Helser said she wanted to get the word out before tax bills start arriving.
Chapman said she's looking at a 16 percent hike on her own home.
It's too late to appeal this year's tax bill, but property owners can prepare to appeal the upcoming assessment, which will be issued in the coming weeks.
On the other hand, homeowners have also seen the values of their homes rise dramatically, Chapman said.
"I think people who have lived in their homes for 20-30 years … would probably be shocked to know what they could actually list it for and sell it for," Chapman said.
"I know they're not going to be happy about the tax amount. I'm not either. Mine went up 16 percent. But I can look at my assessed value and know for sure that I could sell it for that amount or a little bit more," she said.
On a related note, Chapman and Helser both urged homeowners to update the county when they make significant changes to their property. In many cases, they said, people will tear down a garage or even a house and don't report it and then still end up receiving tax bills that don't reflect their existing situation.