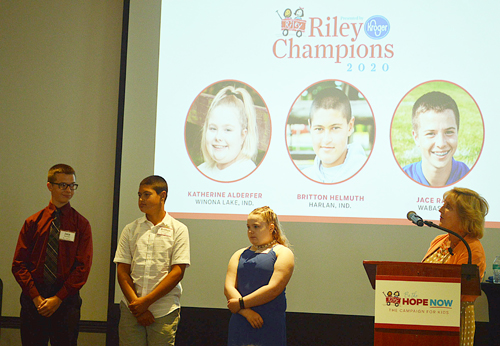 FORT WAYNE – Katherine Alderfer describes herself as a really happy person and now she's got another reason to smile.
The 13-year-old Lakeland Christian Academy seventh-grader was one of three Northeast Indiana children announced Thursday as a 2020 Riley Champion. The announcement took place at the Northeast Indiana Riley Luncheon in Fort Wayne.
"Being a Riley Champion to me means that I can help other kids and make them feel better and make them happy, and I can help Riley because they help me so much," Katherine said after the event.
Katherine has been a Riley kid for 91⁄2 years since she was diagnosed with juvenile dermatomyositis, a form of juvenile myositis. The disease is found in children under the age of 18 and affects two to four children per million. Children experience marked muscle weakness and skin rash. There is no known cause or cure for juvenile myositis.
Kristine Alderfer, Katherine's mother, said Katherine being named a Riley Champion "is an awesome opportunity for her to represent her hospital that's basically like a second home to us and our family. We always say, 'You never really expect to be a Riley family,) but all of a sudden one day you're a Riley family.'"
She said it means a lot to them to have a hospital that close that can give them "so much care, quality health care, and really they saved her life. So for her to be a Riley Champion is just an awesome opportunity … to represent that hospital and to be kind of a mentor to other kids and to be a bright light to people who are really struggling with their own health care problems."
Katherine looks great but isn't "super great" right now, Kristine said. "We're kind of back to our day-by-day status and traveling back and forth down there," she said. "She's 13 and she's living a fairly normal life right now and that's the best we can do for her."
Alan Alderfer, Katherine's father, co-founded the Kosciusko County Riley Kids Fund, held at the Kosciusko County Community Foundation, with Mike Bergen.
Alan said, "We're so excited to be able to support Riley and I'm excited that Katherine is going to be a representative of Riley. We have been supporting Riley through the Riley Kids Fund and half of the money we raise stays right here in Kosciusko County and supports the families to be able to get back and forth."
The other half of the money raised goes to support the hospital itself.
"It's so important that we have a strong children's hospital right here in Indiana, and I'm excited that Katherine is going to now spend the next year going out and sharing her story and sharing why Riley is such a special place," Alan said.
Thursday's luncheon was kicked off with a welcome by Barb Richards, member, Northeast Regional Advisory Council.
She said some of Riley's best advocates are the children.
"Each year, more than 500 Indiana schools participate in the Kids Sharing and Caring program, raising money for Riley Hospital," she said. "During the last school year, 2018-19, 554 participating Indiana kindergarten through 12th-grade schools raised more than $2 million for Riley Hospital."
She recognized area school corporations that were designated as Red Wagon Corporations, including Tippecanoe Valley School Corp. Red Wagon Corporations are recognized for having every school in their corporation participate in a fundraiser for Riley and for raising at least $1 per student.
After the meal, Riley Children's Health Chief Nursing Officer Liz Linden said, "When people think of Riley Children's Hospital, you hear things such as it's the kids hospital downtown Indianapolis, it's that hospital in the big city, it's that trauma center where they take all the bad things."
She said Riley is all those things, "But today, I'm going to ask you to think about it as part of Riley Children's Health. Collectively looking at the only health center dedicated to the care of our children," Linden said. "At Riley, we're committed to assuring that Indiana's children receive excellence in clinical care in their community, as close to home as possible. Because we know it's not just convenient, but it's important for our children and families to have a support network for them so they heal to the maximum capability that they can."
Riley has a statewide reach. Linden said Riley Hospital and its regional clinics see over 8,600 patients visits annually from Allen and surrounding counties.
The hospital just underwent its five-year strategic plan.
"One of our major components that we are focused on is how do we support the care of children in their communities throughout the entire state, wherever it is," Linden said, adding that the Fort Wayne area can anticipate future growth to ensure  Riley meets Fort Wayne's needs and the areas surrounding it.
"One of the things that people don't always connect with Riley Children's Hospital is maternity care. Another strategic focus and thing that is happening that is very exciting for us at Riley is the Riley Children's Health commitment to impacting infant and maternal mortality in the state of Indiana. Unfortunately, Indiana leads the pack in both of those categories in the entire country," she said.
Construction has started on the Riley Hospital campus downtown Indianapolis to move maternity services for IU Health delivered downtown to Riley's campus. The goal of that is to have a new maternity and newborn tower, which will include Riley's maternal fetal medicine clinics, outpatient diagnostic services, labor delivery and mother/baby units as well as a level 3 neonatal intensive care unit.
"The idea behind that is to keep mothers and babies together. Even in the most complex situations, we are focusing on family-centered care. Caring for children by caring for moms," Linden said.
A video was then shown focusing on the family of Matthew, Angela and Maddie Dean. Maddie also has Juvenile Dermatomyositis. After the video, Matthew said that Riley to his family means "God's mercy to my family. Riley has gained our confidence and we're just very grateful for the connection we have now."
Richards and Todd Graham, The Kroger Co. district manager, presented the three 2020 Riley Champions. Along with Katherine, the other two from Northeast Indiana are Britton Helmuth, Harlan, and Jace Randel, Wabash.
In July, a total of eight Riley patients from throughout the state were selected as 2020 Riley Champions. Their roles as Champions, according to Graham, are to attend a welcome weekend in Indianapolis in October, which includes participating in the coin toss at the Indianapolis Colts and Houston Texans game; recognition at Riley Children's Foundation's annual luncheon in November in Indianapolis; and continue to represent Riley locally and statewide.
After that presentation, new Riley Children's Foundation President and CEO Liz Elkas spoke. She talked about the Foundation being dedicated to three main areas in terms of fundraising for what it does: pediatric research and patient care; maternity and newborn health; and family support programs.
She said its goal right now is to raise over $175 million for those priorities by June 2020.
"We have less than a year to go through the Be The Hope Now: The Campaign For Kids. Can you think of anything better in the state to raise money for than Riley?"