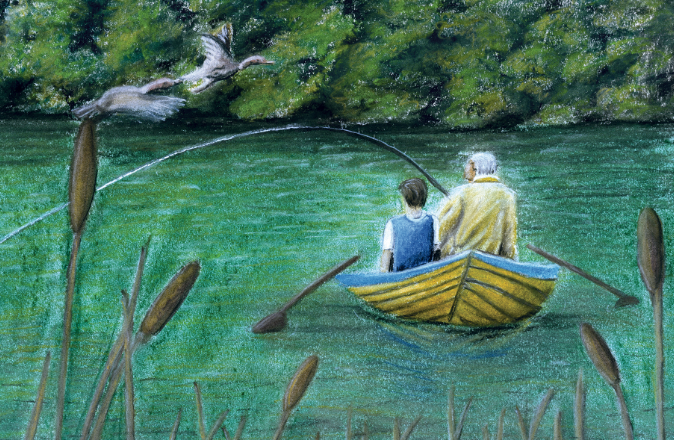 News Release
WINONA LAKE -– The Lilly Center for Lakes & Streams announced the
winners of the 2022-23 art contest.
(see the top three winners below)
Students of Kosciusko County, grades 4-12, submitted their art following this year's theme: Imagining Life at the Lake: Past and Future.
The Grace College art department evaluates artwork based on creativity, artistic merit,
and theme depiction.
The winning artwork will be displayed at The Alley in downtown
Warsaw. These pieces will be placed in a calendar for 2024. Additionally, several will be
printed on cards and bookmarks.
Winning artwork and artists are as follows.
4th /5th /6th Grades
1st Dane Kaleohano, "The Dock of Past and Future"; LCA, 6th
2nd Elynna Weaver, "Heron in the Lake"; Homeschool, 6th
3rd Estelle Jaumard, "A Little Boy Enjoying Time on the Lake"; Homeschool, 6th
Honorable Mention: Will Ellis, "Winona's Worries"; LCA, 6th
7th /8th Grades
1st Amelia Sprunger, "Doggie Paddle"; Whitko, 8th
2nd Claire Yentes, "Friday Fishing"; LCA, 7th
3rd Norah Ellis, "Crane at Teatime"; LCA, 7th
Honorable Mention: Ellie Martinez, "Long Day at the Lake"; LCA, 8 th
9th/10th Grades
1st Catherine Deckena, "The Lookout"; Whitko, 9th
2nd Yareli Meyo-Tecualt, "Father and Son"; Whitko, 9th
3rd Dayton Sibert, "Fading Memories"; LCA, 10th
Honorable Mention: Madison Cripe, "Above the Surface"; Whitko, 10th
11th/12th Grade
1st Abigail Frank, "Papa's Pond"; Whitko, 12th
2nd Sofia Mantovani, "Nature Bond Through the Time"; Whitko, 12th
3rd Justine Ocken, "The Creatures Nearby"; Whitko, 11th
Honorable Mention: Zoey Gaff, "Deep Beyond" Whitko, 12th
Best Overall in Show
Allyson Peconga, "Precious Memories"; Whitko, 11th
Winners receive $75 for 1st place, $55 for 2nd place, $45 for 3rd place, $25 for honorable
mention, and $100 for the best overall.
The art contest is one of four Lilly Center programs that focus on K-12 education. Lake
Adventure Day, Classroom Lake Experience, and destination field trips round out the
rest.
To sponsor the art contest and promote K-12 education programs in Kosciusko
County please call 574-372-5100 ext. 6446.
A special thanks to our generous sponsors, the Zimmer-Biomet Foundation and Lake
City Bank for making this program a possibility.
For more information and contest details, visit lakes.grace.edu/artcontest/.
Imaged attached #1: Above the Surface, Madison Cripe
Image attached #2: Crane at Teatime, Norah Ellis
Image attached #3: Precious Memories, Allyson Peconga