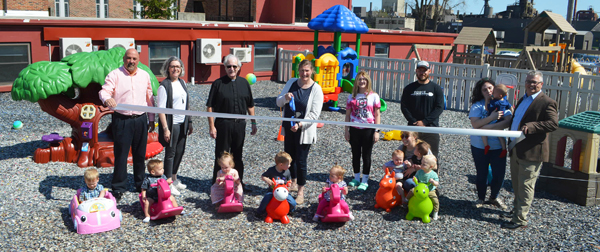 Tami Beery, Little Steps director, said the two new playgrounds and playground equipment were made possible by the Build Learn Grow grant program that Indiana offered to all daycare centers in the state to help them stay open. Beery said the state realized daycares were having issues with staffing and just struggling to stay open. The funds come from the state's share of the federal COVID relief dollars.
"So, basically, we jumped in on that and we decided to use it for stuff that we didn't have the money for otherwise," she said. "It's always been in my dreams, personally, to do the playgrounds, but (the grant) definitely made it possible."
The two playgrounds Little Steps had a ribbon-cutting ceremony for on Monday with LaunchPad – the county's child care and early learning coalition – and Kosciusko Chamber of Commerce are for the daycare's 1-year-olds and 2-year-olds.
"They have their own separate playground and they're age-appropriate for their age," Beery said.
The daycare is for children 6 weeks to 6 years old. Redeemer has offered the daycare since 2010 and has a waiting list due to the demand for daycare.
The two Build Learn Grow grants Little Steps received totaled about $200,000. Beery said they spent over $100,000 on the playgrounds, about $25,000 to $30,000 on a dishwasher and the rest was put into staffing so the daycare staff could be paid more. There are about 13 staff members at the daycare with floaters from Grace College.
Don Fouce Jr., of Fouce Landscaping, installed the playgrounds at Redeemer Lutheran Church, 1720 E. Center St., Warsaw.
"He's the one we hired to do everything and he kind of took care of stuff that really wasn't his job, but he was nice to us and our staff," Beery said.
Fouce said they got the playground equipment installed ahead of schedule, in April.
"The thing that we were hoping is that all of the children in our facility – except for the nursery, of course – could basically be outside at the same time. Because before they were having to tag team, figure out who could get out together and when, so this just gives them the opportunity to really play outside and not" have to rush playtime, Beery said.
Sherry Searles, LaunchPad director, said, "These grants that were made available by the state are the stability grants that the state rolled out to help stabilize our programs like Little Steps that really struggles through COVID and all that came with that. The programs that took advantage of it were able to access quite a bit of funding and so just having this opportunity for children to be outside is wonderful and they provide a great service to our community so we're glad they've been able to add a nice playground for the youngest children to be outside."
Those particular grants have ended, Searles said. There were two rounds – one in the fall and one in December – and she said they had several programs in the community that took advantage of those and got funding.
"But that has come to an end, and now the state is looking at how they'll use the additional funding that they have received and that has not yet been decided on how that will go out," Searles said.
Beery said grant applicants "pretty much knew instantly" whether they received the grant or not.
"And there weren't really high expectations," she said as it wasn't a competitive grant.
Searles said applicants were asked how much was their annual budget and the state awarded three months of that budget in the first round, and then five months of their budget in the second round.
Any daycare program that is licensed or registered "pretty much" was guaranteed a grant.
Little Steps is a registered ministry, as designated by the state, because the daycare takes place in a church.
Other types of daycares include licensed homes for a person who wants to operate childcare in their home; licensed centers that happen typically in freestanding buildings; and now there are legally licensed exempt programs (LLEP), which are what most school daycare programs are.
Redeemer Lutheran Church Pastor Bill Carney said the new playground equipment will help the kids because they'll get a lot of physical activity and will be outdoors to enjoy the sunshine and having fun.
"It helps the community more. A lot of the parents that needed to go back to work after COVID needed a safe place, a safe environment for their kids, and here we are. So, we're more of a benefit to the community of Warsaw and Leesburg than we are to the church," Carney said.