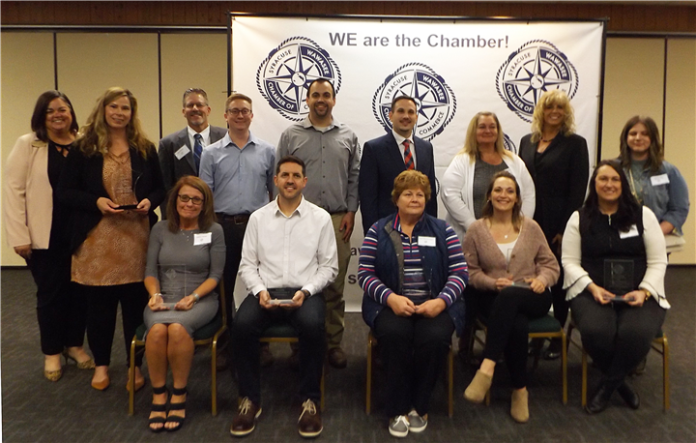 The following is by Denise Federow, Times-Union Correspondent
Syracuse-Wawasee Chamber staff rolled out the red carpet for local members at the Oakwood Resort as they gathered together to celebrate last year and the Syracuse Strong initiative through the pandemic.
Chamber Executive Director Renea Salyer said, "It's been such a hard year – I thought we needed a little laughter."
So she asked comedian Rick Reader to entertain the guests during dinner.
Brad Harris, Miller's Merry Manor, gave a talk on "What is Community Strong" before presenting the first of the awards. Harris said a strong community shares something in common, has regular social contact with one another, helps reshape opportunities and are givers not takers. He went on to explain attributes of a giver. A giver is able to spot needs and fill them, provides energy and enthusiasm, respects others and takes relationships and people seriously, are positive thinkers with a vision for the future and upholds, encourages and supports others. He said as business leaders they need to be givers.
Three businesses were awarded for their resilience, innovation and growth in this past year and their contribution to the community.
The New Business of the Year was awarded to Mug Shots Coffee House & Eatery. Mug Shots gave back to Wawasee Schools with a punch card system and weathered 2020 by creative advertising and creative drinks on the menu. Owner Tina Harlan later shared what receiving the award meant to her.
"It's so awesome! The pandemic has been so hard and we came through with the same employees. We have an awesome staff and fantastic customers," Harlan said.
The New Business of the Year award was presented by Joshua Davis, Pro Wake Watersports.
The Small Business of the Year award for 2020 was given to The Coffee Depot. To be nominated, the business had to have 20 or less employees, be in business three years or more, demonstrate good business practices and be in good standing with the chamber. The Coffee Depot was chosen because they "greet each customer with friendly conversation and would give anyone the shirt off their backs."
"This little gem" continued business through the pandemic through their drive-thru window and recently added a bakery window as well," according to the nomination letter. The Coffee Depot is co-owned by mother-daughter team Kimmie Mcllwain and Connie Sears.
At the end of the evening, Kimmie shared how she felt about receiving the award. "I'm so humbled and shocked," she said. "We work so hard but we love what we do. I certainly wasn't expecting it – there's a lot of great businesses in town. My daughter and I are the dynamic duo!"
The award was presented by Kim Strawbridge of Lake City Bank.
The Large Business of the Year was awarded to Polywood, one of the largest employers in Syracuse. Polywood recycles 400 million plastic milk jugs a day to make their poly-lumber and have partnered with a company to retrieve ocean bound plastic. The company's goal was to recycle 100 million pounds of ocean bound plastic this year. Polywood is in the process of an estimated $12 million investment into a new facility that's expected to bring 300 to 400 new jobs.
The award was presented by Bill Konyha from the Regional Chamber of North East Indiana.
The Volunteer of the Year Award was given to Beth Recktenwall, who volunteers at New Hope Pet Rescue. The nomination letter stated that Recktenwall spends over 40 hours a week at the pet rescue and countless additional hours training others. The award was presented by Michael Murphy of Bowen Center.
Brad Harris presented a new award this year for the Organization of the Year. Nominees need to be committed to the community and provide great value to the community. The inaugural award was given to Syracuse-Wawasee Trails because they were able to complete the Conklin Bay Trail, a $1.8 million project, and that completion contributes to making the city a vibrant community.
Chamber Board President Denny Pressler presented Erik Leffler an outgoing director award for his work on the Chamber board.
Salyer was presented with her own award from Nick Bello of I Shop Local. Bello shared that in 2019 they rolled out the app and three weeks later received a call from the Wall Street Journal wanting to feature it. Bello explained after the pandemic hit they developed a grant program and that's how they met Salyer. I Shop Local presented the Syracuse Wawasee Chamber with a $120,000 grant for Syracuse businesses to create videos.
He said they were creating a culture shift to shop local more than just one day and told the business owners, "You are the heartbeat of the community. Our goal is to help transform small businesses in small towns one at a time."
He praised Salyer and told the guests they were so blessed to have her and that she does more than many larger chambers with larger staffs. He presented her with a Community Champion Award.
In Salyer's closing comments, she said, "It's clear to see why we're Syracuse Strong. We're all rooting for each other to win. We've seen growth beyond measure, our storefronts are almost full and the tech park is sold out."
She said last year when they gathered right before the shutdown the theme was Vision 2020. "Well, it was a little different than expected, but it was still good."
She commented that maybe the seasonal aspect of the town's business helped them to sustain through the pandemic season. "We are onto something big here," she concluded.
She also introduced a new program launching called Local Bucks and said she'd be getting in touch with business owners.