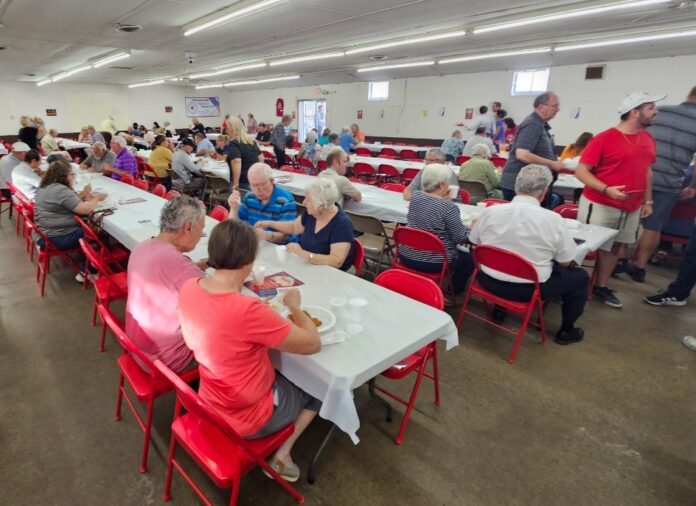 By Dan Spalding
News Now Warsaw
WARSAW — With an incredibly light fall election this year in Kosciusko County —  for the first time in decades, Warsaw won't even have an election — Wednesday's annual fish fry at the Kosciusko County Fairgrounds was not expected to see a huge turnout.
And while attendance was smaller than normal, there was certainly a political buzz that portends much bigger things in 2024.
As expected, the regulars were there. Former Warsaw Mayor Ernie Wiggins was helping fry fish and future mayor Jeff Grose — who takes office in January — was in the post position serving up fish on the front line.
There were at least three candidates running for the wide open Third District Congressional race created after Rep. Jim Banks announced plans to run for the U.S. Senate. Among those at the fairgrounds in the first two hours Wednesday were Warsaw resident Mike Felker, former Fort Wayne Judge Wendy Davis and Steuben County resident Grant Bucher.
And there were a handful of field workers asking guests to sign petitions for state and Congressional candidates necessary to run on ballots.
A handful of future candidates for Kosciusko County were also there pressing the flesh and laying the ground work for what promises to be a large primary race next May.
County elections next year include two county commissioner races, three county council,  the coroner race as well as one for surveyor.
"Next year should be huge," said County GOP Chair Mike Ragan. "We have several local elections in the county … along with  congressional, governor, president and Senate."
Elections this fall will be in the towns of Sidney, Claypool, Mentone and Etna Green. Polling places will be located in each town.