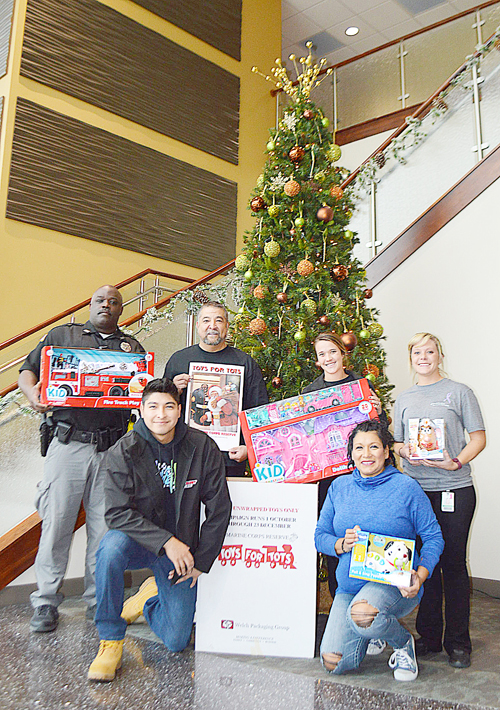 With over two dozen locations in Kosciusko and Marshall counties to donate new, unwrapped toys for Toys For Tots this year, there's plenty of opportunity to make the holidays for less fortunate children a little brighter.
Local Toys For Tots organizer and former U.S. Marine Gunnery Sgt. David Morales said in 2018, a total of 8,500 toys were collected with over 5,600 toys distributed and 3,800 kids serviced. He said that's about average for what he's been seeing in the last few years.
For anyone seeking assistance from Toys For Tots, sign-up is 8 a.m. to 4 p.m. Monday and Tuesday, and 4 to 8 p.m. Wednesday and Thursday, at the former Ace Hardware building, 1701 E. Center St., Warsaw.
Parents will need to bring their ID, as well as ID for their children, such as birth certificates, Social Security and/or Medicaid cards. Noncustodial grandparents or family can not sign up the children; you must have physical custody of the children as you will have to have documentation.
Morales thanked the Maze family for the use of the Ace Hardware building for Toys For Tots.
Monetary donations can be taken to Morales at Parkview Warsaw or made online at www.toysfortots.org. He said over $2,500 was given in monetary donations in 2018.
Morales thanked Parkview for its support of the Toys For Tots program. He is a lieutenant and Warsaw site supervisor with the Parkview Police Department.
WNDU's Tricia Sloma will return to Martin's Supermarket in Warsaw from 7 to 10 a.m. Dec. 7 for the annual toy drive, with Morales and volunteers on hand until 11 a.m. Kosciusko County Firefighters Association fire departments will deliver their trucks of toys to the toy drive around 8:30 that morning.
If a person can't make a donation that morning, toys will be collected until Dec. 16, with distribution set for Dec. 21.
Drop-off locations in Kosciusko County include all Dollar General stores; State Farm offices on Market and North Detroit streets; McAlister's Deli; Hacienda; Home Helpers; Monteith Tire; Sidehouse Grill; Main Street Bar & Grill in Syracuse; Titus Funeral Home; Maple Leaf Farms; CVS Warsaw; Walgreens Warsaw; Walmart; Meijer; Stock & Field (Big R); Parkview Warsaw; all fire stations; MutualBank in Warsaw; Beacon Credit Union; WRSW radio station; Menard's; and Martin's.
In Marshall County, new unwrapped toys can be dropped off at Advance Auto in Bremen and in Plymouth at the North Michigan Street location; and at Advance Services Inc., also on North Michigan Street in Plymouth.
Country and gospel singer Susie McEntire will return in concert at 7 p.m. Dec. 14 at Lakeview Middle School, with doors opening at 6 p.m., to support Toys For Tots. The concert is free, but a donation of a new, unwrapped toy is suggested and will be taken at the doors.
"They're impressed with what's collected so (McEntire) likes to come back every year," Morales said.
The three age groups Toys For Tots often has difficulty getting gifts for are pre-teens, teenagers and children 2 years old and younger. Trinkets For Teens, a project by the Warsaw Community High School FCCLA, has donation locations around Warsaw. Contact Dena Lancaster at WCHS for more information on the Trinkets For Teens program, Morales said.
Toys For Tots began in 1947 as the brain child of Marine Corps Reserve Major Bill Hendricks. Actually it was his wife, Diane, who was the real inspiration, according to the organization's website. She had crafted a few handcrafted dolls and asked Bill to deliver them to an agency that supports children in need. When Bill reported back to his wife that he could not find such an organization, she instructed him to "start one!"
Major Hendricks and the Marines in his reserve unit in Los Angeles collected and distributed 5,000 toys in 1947. Seeing such successful community engagement in 1947, the Commandant directed all Marine Reserve Sites to implement a Toys For Tots campaign, transforming it into a national community action program in 1948.
The Marine Toys for Tots Foundation, an IRS recognized 501(c)(3) not-for-profit charity, was established in 1991 at the behest of the Marine Corps to help run and support the Marine Toys for Tots Program.
The Foundation raises funds, purchases toys, provides promotional and support materials, manages all funds raised and donated, solicits corporate support, educates the public, and handles day-to-day operations.
Presently, the Marine Toys for Tots Program distributes an average of 18 million toys to 7 million less fortunate children annually.
For more information on Toys For Tots, visit the website www.toysfortots.org or email kosciuskocountyt4t@gmail.com.