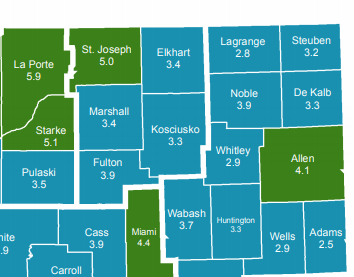 After Tuesday's report of improving unemployment in Indiana, Kosciusko County followed suit by having one of the lowest rates in the state.
The newest data from the Indiana Department of Workforce Development showed Kosciusko County unemployment rates at 3.3 percent. That's one full percentage point lower than November's 4.3 percent, but higher than the 2019 rate of 2.6.
Neighboring Whitley County recorded the lowest rate of area counties as they fell to 2.9 percent in December, down 0.6 percentage points from November.
Improvement on unemployment was seen in neighboring counties, with Elkhart County seeing the biggest improvement after dropping 1.1 percentage points from November to December.
Find the full unemployment report here, the rankings of Indiana counties here, and a map of Indiana unemployment here.