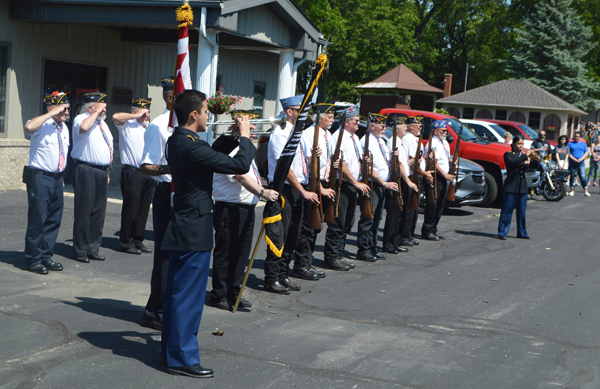 American ideals are perseverance, hard work and dedication and the U.S. needs to get back to those ideals, according to Ken Locke, Honor and Remember Committee chair for Kosciusko County, Salvation Army envoy, member of the American Legion Post 49 and veteran.
Locke was the guest speaker at Monday's Memorial Day ceremony at the Preacher's Stand at Oakwood Cemetery in Warsaw.
"John F. Kennedy expressed many years ago, 'As we express our gratitude, we must never forget that the highest appreciation is not to utter the words but to live by them,'" Locke said in his opening. "I want to look today with you in thinking about the fact that it's all important to speak words but it's more important to live by them."
He said it's important for us to express gratitude.
"On May 30, 1868, 5,000 people gathered in Arlington National Cemetery. It was the first Memorial Day. At that time, it was called Decoration Day. Congressman James Garfield, who later became president, said these words: 'For love of country they accepted death, and thus resolved all doubts, and made them immortal their patriotism and their virtue,'" Locke said.
Since that time, thousands have been buried at Arlington and thousands have been buried all across America who have given sacrifice for our country so that we have the freedoms that we have today, he said.
"We remember this day that all our veterans who have passed on, this day is for them and we say thanks," Locke said. "Most importantly, we remember those who have gave the ultimate sacrifice in battle. We must never forget. A nation who forgets the sacrifice of those who came before them will not survive. We must never forget."
On Memorial Day, he said we keep alive the memory of those who died for our country. We remember those who loved our country more than life, he said, and paid the ultimate sacrifice.
It's estimated that 42 million Americans served in the military. Of that 42 million, Locke said, 650,000 were killed in battle and 539,000 more died from the wounds or other non-combat issues.
"Many Americans have served. Many also have died," he said.
When one thinks of the battles that America has stepped into, Locke said that the bloodiest battle Americans have ever served in was Meuse-Argonne in 1918. American lives lost numbered 26,277. Locke said Argonne Road in Warsaw is named after that battle to honor the fallen men.
In the Battle of the Bulge, more than 19,200 Americans died. In Gettysburg, during the Civil War, 51,000 died from both sides.
"We can go on and on, listing battles and the number of Americans who have died. Even up now to Iraq and Afghanistan. Though the numbers may be smaller of those who are killed now, they're still sacrificing" their lives, he said. "One life is one great sacrifice for our country. We honor them today."
America has survived 246 years, Locke said.
"And one of the reasons, one of the major reasons we have survived, is because of men and women who have donned the uniform and gone to places – sometimes to hell and back – to give us the liberties that we have today," he said.
"Don't kid yourself. Freedom isn't free. In all of reality, there is nothing free in this country, in this life. Everything comes with a price. Somebody has to work to pay for it. And, yes, some men and women go and they die to secure what we have today."
What Kennedy was saying to each one of us, Locke said, circling back to his opening remarks, is that we must live up to their sacrifice.
"General Douglas MacArthur said, 'I am concerned for the security of our great nation. Not so much because of any threat from without, but because of the insidious forces working from within,'" Locke stated. "There seems to be an unraveling of America lately. There's a great disunity. But I will tell you from serving in the military, you learn unity really fast. I never served in combat but I will tell you that when we were training, you learn that the most important person is the person next to you."
He said you didn't care what color they were, what religion they were or where they came from, you were just hoping that you could get through and survive and make it to the end.
"We need that type of unity in this country. We need to come together again. There's a question on the American ideals," he said, but if America is to survive it needs to go back to those ideals.
"Those ideals when young men and women went and served, knowing that we have great blessings in this country. It's that life, liberty and the pursuit of happiness. It's the idea that all men are created equal in the sight of our creator who is the one who is endowed with us, who has endowed us with freedoms that we have. It doesn't come from government. It comes from God. We need to preserve it. We need to protect it," Locke stated.
"American ideals are perseverance, hard work and dedication," he said.
If you get knocked down, you pick yourself up and get going again.
"And somehow we seem to be moving away from that in this country," Locke continued. "We need to go back to those ideals."
He said America wasn't perfect, but other people who have served in other parts of this world can't wait to get back to the U.S. to enjoy the freedoms that we have here.
"The price has been paid with blood, sweat and tears for us to be here, enjoying this foundation of freedom. And we must be very careful that we don't squander it. That we don't waste it away. It doesn't just happen. It comes with a price. That's why we gather today to remember. We remember that someone gave their all so that we could have what we have today," Locke said.
He said Kennedy also said something else really interesting that probably wouldn't be as popular today.
"He said, 'Ask not what your country can do for you, ask what you can do for your country.' There's too many people now who are looking at government for a handout instead of a helping hand to make this a better place.  Yes, it's time for us to go back to those American ideals," Locke said.
As he concluded his remarks, he talked about being thankful for being able to wake up one more day.
"May I say to each one of you today, when you look in the mirror, thank God that you got another wake-up in America. This truly is the land of the free and the home of the brave. We still have a lot of work to do to make it that city on a hill, but let us never forget, but somebody has given us that freedom through the ultimate price they paid," he said.
Also, as part of the Memorial Day ceremony, the Warsaw Community High School band performed and the JROTC Color Guard posted and retired the colors. Kathy Breske, president of the Unit 49 Auxiliary, read the poem "Come Visit My Grave" by Jim Rolfes and read the names of the American Legion Post 49 members who died over the past year before a moment of silence was observed.
After Locke's remarks, American Legion Post 49 Commander John Mort and Breske, along with the JROTC Color Guard, laid wreaths at each of the three veterans circles in Oakwood Cemetery. The Legion's Honor Guard then shot a three-round volley, followed by the playing of Taps by WCHS band members and JROTC cadets Joaquin Viera and Mariana Conde.