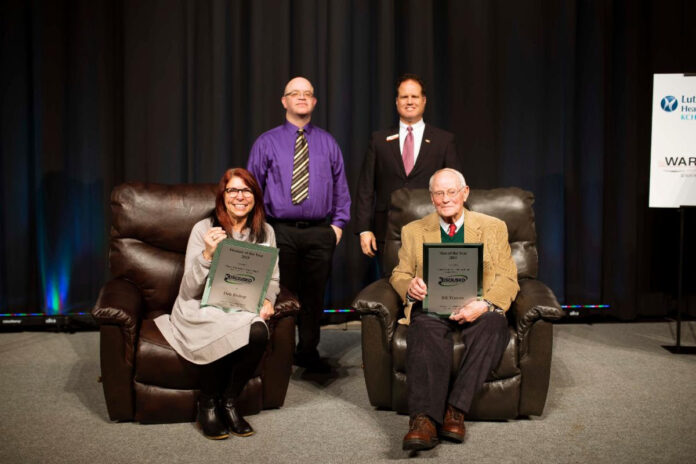 Bill Warren and Deb Bishop were named the 2019 Kosciusko Chamber of Commerce Man and Woman of the Year.
The annual Chamber awards dinner was Thursday night in the Manahan Orthopaedic Capital Center at Grace College.
Warren, a lifelong member of Kosciusko County, was described as a kind, humble man who quietly gets things done in the community.
"At the age of 19, he married his high school sweetheart. He was smart and determined to create a career so he could support his family. Through the years, he has had a variety of different jobs including cleaning cars at the Chrysler dealership, managing the Gulf filling station, working for North American Marine and selling boats for Red Fish," presenter Doug Hanes, of 1st Source Bank, said. Warren later joined his father in the real estate business, which he later ran with his wife, Molly, for over 40 years. He and Molly also owned an antique store, the Pierceton Motel and the Pierceton General Store and Flowers. Warren built and operated a car wash and bought a 200-acre farm to raise crops and livestock.
"Our Man of the Year has not only succeeded at supporting his own family, but also in helping families all across Kosciusko County who have a son, daughter or loved one with a disability, Hanes said. "When his second child Mark was born at Murphy Medical Center, he had a complicated delivery, during which his brain was deprived of oxygen and he was born with brain damage. When the time came for Mark to start school, our Man of the Year and his wife were told there was no place for their son in the local school system. He was determined to do everything he could for his son and to give him every opportunity for schooling. Therefore, in 1963, he and his wife rented a home, along with five other families, and hired a teacher. The school grew quickly and evolved into what is now known as Cardinal Services. Cardinal Services now serves over 4,100 clients annually."
He and Molly have been married for 64 years and live on Tippecanoe Lake.
"Ladies and gentlemen, I had no idea. I?almost wore a sweater," Warren said to applause and laugher when he took the stage. "Just unbelieveable. It's unbelievable. I know quite a few of the folks who have received this award before. Bob Bishop is one of my favorite people. I do want to thank all of you. The honor is so great, and I appreciate it so much."
Next was the introduction of Bishop by Times-Union Managing Editor David Slone, who was described as a community servant who seeks no recognition but works tirelessly to help improve the community.
"As the chair of the board for Wagon Wheel Center for the Arts, she has done a tremendous job of re-orienting the organization from a privately-owned enterprise to a non-profit community group. She has championed additional programming for children, including acting and dance classes," Slone said.
Bishop was described as someone who is forward thinking, a successful fundraiser and someone who communicates well with all levels of leadership in the community.
"In addition to her work at Wagon Wheel, she has shared music director responsibilities at First United Methodist Church in Warsaw for a number of years. She is the piano accompanist for the church choir and helps organize, lead and performs with the contemporary praise band for the church's contemporary service. She has helped organize and regularly works at the Community Closet at First United Methodist Church, making household goods, personal care products and other essentials available to the less fortunate in the community. She has even participated in the 500-mile 'St. James Way Walk' with her pastor, crossing Spain and France," he said.
Bishop has been a piano teacher in the community for many years, accompanied choirs at Warsaw Community High School for 15 years and is a past chair of the Symphony of the Lakes.
She and her husband Brad have been married for 30 years and have three children.
"I certainly wasn't expecting this," Bishop said with tears when she took the stage. "This is a great community, and I almost feel guilty Brad and I are gonna move to Florida."
She thanked the community for supporting Wagon Wheel and the Community Closet at her church.
The awards were presented and sponsored by the Times-Union and 1st Source Bank.
Other awards presented were to Heather Smith, with 1st Source Bank, for Chamber Ambassador of the Year. She was described as someone who has attended more than 50 events in the past year and helps encourage other ambassadors to do more.
Jeri Purdy was called the epitome of a community connecter when she was presented the Young Adult Professional of the Year award, and county auditor Michelle Puckett was described as someone who is honest, caring and makes people feel appreciated before she received the Government Excellence Award.
The Bowen Center was awarded the Health & Wellness in the Workplace award for their focus on creating and maintaining healthy practices in their company. Network Partners was chosen as the Rising Star business, that is it is Kosciusko County's highest performing new company.
Warsaw Early Learning Academy was lauded as the Launchpad Family Friendly Business for its evolution and dedication to helping children and families with child care, and K21 Health Foundation was awarded the Making A Difference Award for all that it's done for the community.
The Business of the Year was Maple Leaf Farms. The company was founded by Donald Wentzel in 1958 when he started a small duck operation in Mentone. In its first year, the company produced 280,000 ducks. By 1964, Maple Leaf Farms grew its annual duck production to more than 1 million.
Wentzel had a vision that the U.S. duck industry could make significant progress if properly managed, and he passed that vision along to his son-in-law Terry Tucker after Wentzel's passing in 1968.
In 2001, Wentzel's grandsons, Scott and John Tucker, were named co-presidents of the company and have turned Maple Leaf Farms into a global business.
A fourth-generation family business, the Tuckers were recognized for running a company that is based on its values, commitment to family, community and quality – and having fun.
Chamber President and CEO Rob Parker thanked everyone for their involvement in the community and said he believes that even in our world of technology, it is people who make the difference.
"People are how we will grow, and people will solve the problems of today and tomorrow," he said.
He also acknowledged the chamber's work and accomplishments over the past year included the K21 partnership and LaunchPad.
"Our child care and early learning coalition took massive leaps forward in working toward adding more capacity in our community. We worked alongside other partners to produce a framework for creating a healthier community and in 2020, the community should expect to see the results of a study by Gallop that will give us a wellbeing score," Parker said.
Through that framework, he said, the Chamber will use the results to implement plans to improve the wellbeing of members of the community.
"We know where the growth of our community is coming from, and we are working to make sure that we are well positioned to meet the new growth to maximize talent attraction and retention," Parker said.
The keynote speaker was Andrew Berlin, owner of the South Bend Cubs and partner owner of the Chicago Cubs.
Berlin's speech focused on what it takes to make a championship team.
"In order to build a championship team, it begins with an extraordinary amount of passion, but beyond the passion, there has to be a plan," Berlin said. "Our businesses all rise and fall based on the quality of our employees."
He said you can't teach excitement, "you can't teach the desire to crush your competition and drive joy from that. You can only recruit those people."
Berlin talked about his journey to getting the Cubs minor league team to South Bend after he bought a failing Silver Hawks clubhouse in 2011, and said, "If you think about selling an experience, that's how to do business. It's not just the product or the service."