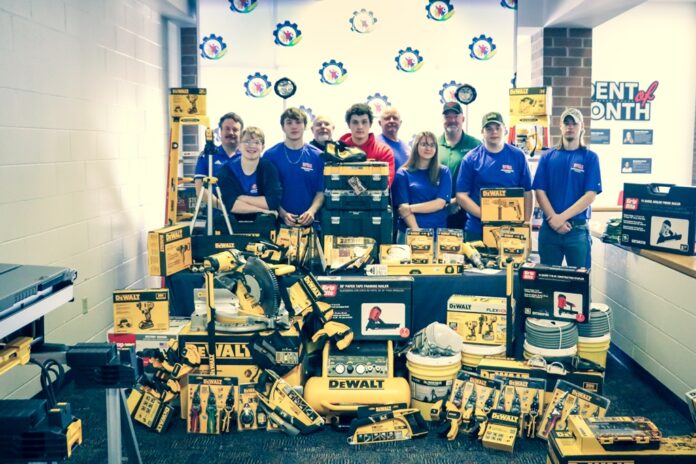 Thursday afternoon was a time of celebration for Whitko Career Academy Students.
Only days into the new year, and WCA has established a new partnership with Wishbone Medical and Redstar Contract Manufacturing, celebrated student F.A.M.E. achievements through Ivy Tech, Fort Wayne Metals and Omnisource, and now a new exclusive donation by Builders Mart in Warsaw, IN and DeWalt of tools, equipment, and protective gear with major brands DeWalt and GripRite.
Brent Messmore is the lead instructor inside of WCA Construction and worked in collaboration with Tom Ness and colleague Matt Miner of Builders Mart. A complete list of equipment can be found itemized in the attachments.
Watching the student reactions, Manager Tom Ness shared, "Builders Mart of Warsaw, in conjunction with DeWalt Tools, is proud to have been able to make a donation towards the purchase of tools and equipment by the Whitko Career Academy. It is our hope that the students will find having this equipment helpful and educational. When Brent Messmore approached us with the news that he would be teaching the start-up program at Whitko Career Academy, we knew we would help in any way we could. We have enjoyed a long-standing relationship with Warsaw High School and Tippecanoe Valley Trades Programs, and the entire Builders Mart organization hopes to continue to foster these relationships for the future realization of the programs. We thank you for the opportunity to contribute to your future success."
Instructor Brent Messmore was ecstatic about donation saying, "Today was a very exciting day for the Construction Trades class. We received a wide variety of equipment that we need in order to go off-campus and do various jobs within our community. Up until now, we have gotten by with personal tools but now my students can learn by using state of the art
tools and safety equipment.
This contribution from Builder's Mart of Warsaw & DeWalt Tools enables us to do about any job we want to. I greatly appreciate our ongoing partnership with companies. Support for this Construction Trades class, from Dr. Penrod and our corporation, is a statement of how they want Whitko Career Academy to advance in giving our students the best opportunity to succeed in the classroom and in life."