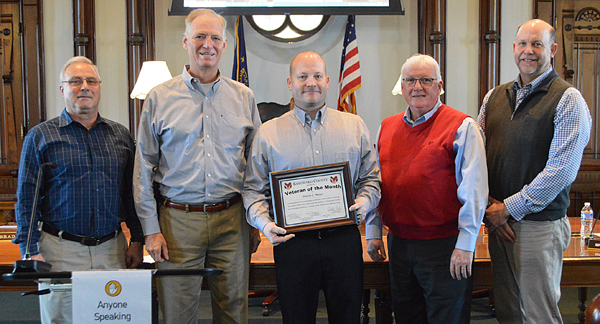 A Warsaw man who served in the U.S. Marines and who supports organizations like 22 Until None to ensure that no veteran should end their life early is the April 2022 Kosciusko County Veteran of the Month.
Dustin C. Mayer, a resident of Kosciusko County since he was 13, was born Aug. 16, 1974, in Goshen, to Karen E. Boggs and Larry C. Mayer, according to Dustin's biography prepared and read by Kosciusko County Veteran Service Officer Darryl McDowell. Dustin moved from Goshen in 1989 to Ridinger Lake, just outside Pierceton, and lived with his grandparents, Billy A. and Donna J. Mayer. Much of his time was spent with his uncle, Douglas L. Mayer, and aunt, Kirsty S. Mayer, and their two sons, David and Daniel.
Dustin graduated in 1993 from Whitko High School. He enlisted into the United States Marine Corps in March 1993 in Indianapolis. His basic training was conducted at San Diego, Calif., followed by Advanced Military Training (AIT) at Camp Pendleton, Calif. He then departed for additional schooling in Albany, Ga., and later assigned to 3rd Battalion, 3rd Supply, 3rd Force Service Support Group (FSSG) at Camp Kinser in Okinawa, Japan.
"Already starting his career with visiting overseas. Great opportunities," McDowell said.
Some of Dustin's duties were to load naval ships and submarines for deployment. When he was not loading containers and count inventories, he spent time at the base motor pool using the mechanical skills he learned from family and friends growing up, McDowell said.
While on active duty, Private First-Class (E-2) Dustin received awards that included National Defense Ribbon, Good Conduct Medal and Overseas Ribbon.
Dustin was honorably discharged medically in March 1995 from the Marine Corps after having been injured stateside from a fall down a mountain "over 200 feet" on a training mission, McDowell said.
Serving his country proudly, Dustin returned home to Pierceton to follow in his grandfather's footsteps, becoming a certified Class A CDL milk hauler/sampler, delivering milk from farms to various dairies.
He became a father of two daughters, Casandra and Breana Mayer.
Dustin "was blessed with another miracle" back in 2018 when he suffered from a major heart attack, McDowell said. Thanks to his wife Amy Mayer being a nurse, she saw him and knew what to do immediately to save his life.
Dustin lives in Warsaw with his wife, loves to travel and spend time learning and seeing new places, going to car and coffee events, and helping others.
After McDowell and the commissioners presented Dustin with a framed certificate, Dustin said, "Thank you all very much. It's very appreciated. I wanted to include in my message that with Christ, all things are possible. Without Christ, nothing is possible."
He said he also supports various organizations for the 22 Until None.
"If anybody doesn't know … 22 veterans die every day" by taking their life, he said. 22 Until None works to reduce that number from 22 to none.
He also supports Til Valhalla Project (https://tilvalhallaproject.com/) and Freedom Hill Coffee Roasters (https://freedomhillcoffee.com/), both which raise money to support veterans and end veteran suicide.
"Great organizations to support to help veterans realize that they have something to live for," he said.
Dustin also said, "I love our country very much. I love America. I love my county, it's always been good to me."
He said he was very thankful for the recognition Tuesday and would hang the framed certificate on his garage wall once it was completed. He thanked his wife for everything she's done for him, including saving his life when he had a heart attack.
Later in an email, he added that he respects and appreciates all of his serving military brethren and those who have served.