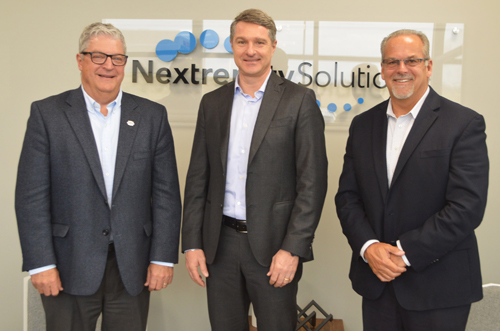 At some point soon, the Nextremity Solutions sign at 1195 Polk Drive in the Warsaw Technology Park will come down and be replaced with a Medartis sign.
Medartis, a Swiss-based orthopedic company for head and extremity surgery, announced March 7 of its intent to acquire Nextremity Solutions Inc., a strategic commercialization organization with a focus on the extremity musculoskeletal space.
On Friday, Medartis CEO Christoph Brönnimann, Nextremity CEO Rod Mayer, Warsaw Mayor Joseph Thallemer and members of the Nextremity team met with local media to talk about the two companies and their future together.
Brönnimann said his first touchpoint with Nextremity was probably in July 2021 "as Nextremity was getting ready to launch … technologies that we looked into. We were looking at those technologies, and also we found it was a very good fit to our portfolio, especially the lower extremities where we want to get much stronger in terms of our portfolio."
As they discussed the technologies, Brönnimann said Medartis got to know Nextremity as a company.
"I liked very much the approach that Nextremity took to develop the products," Brönnimann said, which improve the outcome for the patients and is a similar way to how Medartis approaches and develops technologies.
"And then we got to know the people – Rob and his management team. We felt that there was a very good culture fit as well. Very impressed by the execution, the way they thought about technology, bringing innovation to the market, their dedication to the extremities market. That's where we want to be and that's where we are as an upper extremity, getting more and more into lower extremities," Brönnimann said.
The conversations continued until Brönnimann asked if Nextremity was open to expanding the conversation including merging "because we have a sales operation, a sales organization in the U.S. Now, all of a sudden, Nextremity brings a strong R&D and also a print and manufacturing facility," Brönnimann stated. "If we combined the sales organization with the R&D and the manufacturing, we could actually build a … medical device company, dedicated to the U.S. market, dedicated to the U.S. surgeons, and that was then the opportunity that we continued to discuss."
Those conversations quickly came to how the two companies could merge.
Brönnimann said what makes this merger special is it's a "pure play add-on."
Medartis has the sales organization and with the acquisition of Nextremity it has the local R&D and manufacturing. "So we can expand our manufacturing side, which is in Basel, into Warsaw, into the Nextremity manufacturing. So we're going to be certainly investing into filling that manufacturing side very quickly,"?Brönnimann said.
Now they have a R&D center dedicated to the U.S. market, which they plan to keep independent and to be dedicated to U.S. surgeons and the U.S. extremity market, which "perfectly complements the R&D center that we have in Basel," Brönnimann stated.
He said, "So going forward, we have very few overlaps in terms of functions, but given the growth that we are planning, the opportunities that we see in the U.S. market, we've got to very quickly grow."
Nextremity, as a company, along with its people and technology, were key for Medartis, Brönnimann said. The fact that Nextremity is in Warsaw was a supporting factor because the medical device industry is here, as well as suppliers that leverage technology that may not be in the company like 3D printing and injection molding.
Asked if the company envisions more hiring in Warsaw, Brönnimann said, "I think it speaks for itself. Absolutely." With the company's visions of growing in the U.S. market, he said growth means hiring people, getting new products in the market and working with surgeons.
"With all the new products that are being developed here, we're going to be filling the manufacturing side very quickly. So I think we have enough space here for the next few years, but we also have an option here on the land right next to it, so the expansion option is even more important as well," Brönnimann said.
Mayer said the acquisition is an "excellent" moment for Nextremity's shareholders and its founding surgeons.
"This was their dream. I think, as Christoph has commented, it was a right fit from the very beginning and then as we got to know each other, understood the passions behind the founding members of Medartis, and the entrepreneurial spirit of their board and their commitment to a global mission that matched up with our domestic mission, it became a very scary 'right' relationship, as Christoph often said.  So it's not bittersweet, I would say it's just an excellent opportunity for two companies to become one, and then to see us be absolutely committed to becoming what we aspire to become, that's the number one pure plate global extremity company in the world," Mayer stated.
Nextremity Chief Financial Officer Dan Stichter said, "I think that the way the industry is progressing, this is the likely outcome for many start-up and growing companies. The medical device industry has a wide economic growth, meaning it is difficult to start from scratch, and so becoming a part of a broader organization allows you to grow certainly more patients, certainly more surgeons. Obviously, it's a significant win."
Mayer said there are times when acquisitions occur that are not necessarily a favorable long-term outcome. "What we have here is an all-upside opportunity that we're not going to see people lose their jobs. We're going to see more jobs created. Christoph already alluded to the fact that we will outgrow this facility. We're going to need to think about this land north of us," he said, adding that he's following Brönnimann as a leader. "He will bring leadership to the worldwide organization. That's the type of leadership we've known historically here, Mayor Joe."
Mayer said Biomet founder Dr. Dane Miller had a vision of what he wanted Biomet to be and everyone saw the impact of that on this community as well as the county, nation and world.
He compared Medartis' founding and history to what the Warsaw community has seen and been accustomed to with DePuy in 1895, Zimmer in 1925 and Biomet in 1976.
Brönnimann said Medartis was founded in 1997 by Dr. Thomas Straumann, who owns 47% of the company. His family was a very entrepreneurial family that started multiple businesses. The company went public in March 2018, and Brönnimann joined in 2019.
Thallemer said he was really intrigued by the discussion that was had Friday. "All three discussions really highlight to me the synergies that we've created in this community and why it's pretty natural that this happened, but there's always work. Developing this Tech Park was a big, big thing for me initially in providing opportunity. This (Nextremity) was initially a shell building that we knew could be expanded. We brought people to the table with what we had and I'm humbled that it's working. It's doing what we thought it would do," he said.
Dave Temple, Nextremity vice president of marketing and corporate communications, explained why the Nextremity name will not continue to exist. He said they tried weighing things like brand equity, and while Nextremity does have a very well-known name, "as far as being a product development company, we felt, quite honestly, that the Medartis brand actually carried a lot more weight and is more well-known globally, so that's really the decision behind it. It will change and you'll see a different sign very quickly."