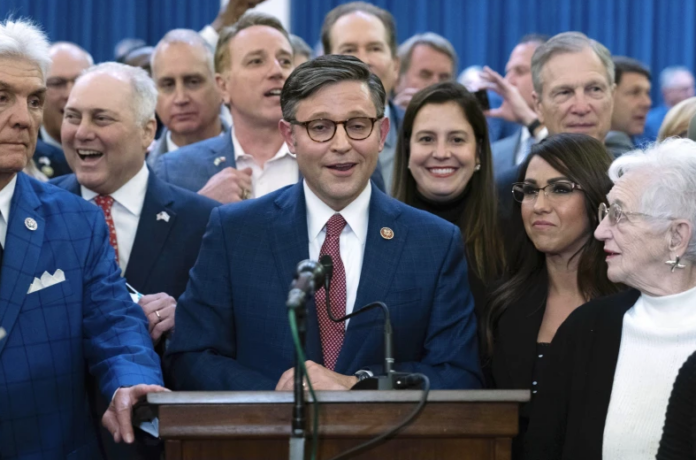 WASHINGTON (AP) — Republicans unanimously elected Rep. Mike Johnson as House speaker on Wednesday, eagerly elevating a deeply conservative but lesser-known leader to the major seat of U.S. power and ending for now the weeks of political chaos in their majority.
Johnson, 51, of Louisiana, swept through on the first ballot with support from all Republicans anxious to put the past weeks of tumult behind and get on with the business of governing. He was quickly sworn into office, second in line to the presidency.
"The people's House is back in business," Johnson declared after taking the gavel.
A lower-ranked member of the House GOP leadership team, Johnson emerged as the fourth Republican nominee in what had become an almost absurd cycle of political infighting since Kevin McCarthy's ouster as GOP factions jockeyed for power. While not the party's top choice for the gavel, the deeply religious and even-keeled Johnson has few foes and an important GOP backer: Donald Trump.
"I think he's gonna be a fantastic speaker," Trump said Wednesday at the New York courthouse where the former president, who is now the Republican front-runner for president in 2024, is on trial over a lawsuit alleging business fraud.
President Joe Biden congratulated the new speaker and said it's "time for all of us to act responsibly" with challenges ahead to fund the government and provide aid for Ukraine and Israel.
"We need to move swiftly," the president said.
In the House, far-right members had refused to accept a more traditional speaker, and moderate conservatives didn't want a hard-liner. While Johnson had no opponents during a private party roll call late Tuesday, some two dozen Republicans did not vote, more than enough to sink his nomination.
But when GOP Conference Chair Rep. Elise Stefanik rose to introduce Johnson's name Wednesday as their nominee, Republicans jumped to their feet for a standing ovation.
"House Republicans and Speaker Mike Johnson will never give up," she said.