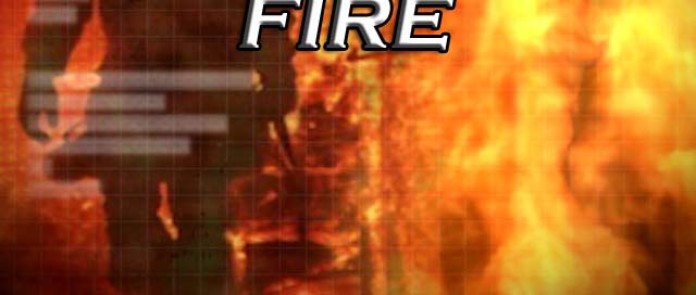 The house fire in Milford Wednesday afternoon resulted in damage to neighboring homes and did not rekindle later in the evening as previously reported.
Milford Fire Chief Virgil Sharp said Thursday he was shocked when he heard news reports of the garage rekindling around 9:15 p.m. Wednesday. Sharp acknowledged news reports were due to scanner chatter.
"I was on the way to work when I heard (on the radio) we had a rekindle last night and had it under control real fast. That was not the case," Sharp said. "It was a neighbor with a bonfire and the neighbors were just seeing the reflection of the bonfire."
Shortly after 1 p.m. Wednesday, Milford fire responded to 410 W. Catherine St. and found the house fully involved in fire and smoke.
Four people were in the home at the time of the fire and three were rescued from an upstairs window by Widman Builders employees John McQuade and Micah Mansfield. The workers were on the roof of a neighboring house when they heard a woman yelling help from the front yard. They saw a baby dangling out the upstairs window and quickly grabbed a ladder and rescued the baby and two others climbed down to safety. The fourth person is said to have left through a back door unharmed.
According to county records, the home is owned by Tasha Thompson. The home is  a complete loss.
A neighboring home had siding that melted and another home had extensive siding damage and broken windows from the heat and exposure to the fire, Sharp said.
The fire is under investigation.
"As far as what started it, where it started, who started it, it is still being investigated," Sharp said, saying the investigation will be "interesting."
Syracuse assisted Milford fire with a ladder truck and manpower, and Leesburg and New Paris came in with a full assist. It took nearly two hours to get the fire under control, Sharp said.
Milford firefighters were kept on their toes Wednesday, first responding to the 1 p.m. house fire, then later in the day assisting Leesburg fire with a grass fire, then to be called back to the reported garage fire that turned out to be a bonfire.
"Two Sundays ago, we had five calls between noon and 6 p.m. that evening and they were decent calls, they're weren't like alarms or anything like that," Sharp said. "It was grass fires and a bad accident with New Paris and, yeah, we've had a busy couple weeks."
Sharp said the American Red Cross was contacted by an unknown person to help the displaced home's occupants.