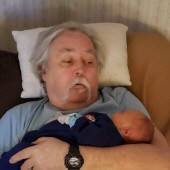 Mitchell L. "Mickey" Dulworth, 66, of Warsaw, died Thursday August 25, 2022.
Mickey was born in Elwood on January 19, 1956, the son of (the late) Hubert L. Dulworth & Vianna Mae (Norton) Dulworth Scott. Mickey has been an area resident since 1983 and on April 28, 1984, he married Vickey (Himes) Dulworth in Warsaw; she survives after 38 years of marriage. Mickey had been employed as a truck driver and he was an
avid football fan, especially the San Francisco 49ers, Tennessee Titans and Washington Redskins/Commanders. He enjoyed the time he spent with family & friends, watching Sunday football, playing video games with the kids or listening to music.
In addition to Vickey, Mickey is also survived by sons, Jarred (Erica) Dulworth of North Manchester, Joshua (Ashley) Dulworth of Warsaw and Christopher Dulworth of Cookeville TN; daughters, Anita Moore of Warsaw and Tracy (Michael) Cotton in Alabama; brothers, Richard Dulworth of Warsaw and Hubert (Kerri) Dulworth of Crossville TN; sisters, Debra Carter of Overton TN, Peggy Elliott of Warsaw; 14 grandchildren and 2 great-grandchildren. Mickey was preceded in death by his parents and sisters, Anita Dulworth &
Judith Roberts and a brother, Thomas Dulworth.
Visitation is from 4-8pm Monday August 29, 2022 at McHatton Sadler Funeral Chapel, 2290 Provident Ct. Burial will be in Tennessee.
Memorial contributions may be directed to his family. To share a remembrance of Mickey or to offer condolences to his family, please visit www.mchattonsadlerfuneralchapels.com