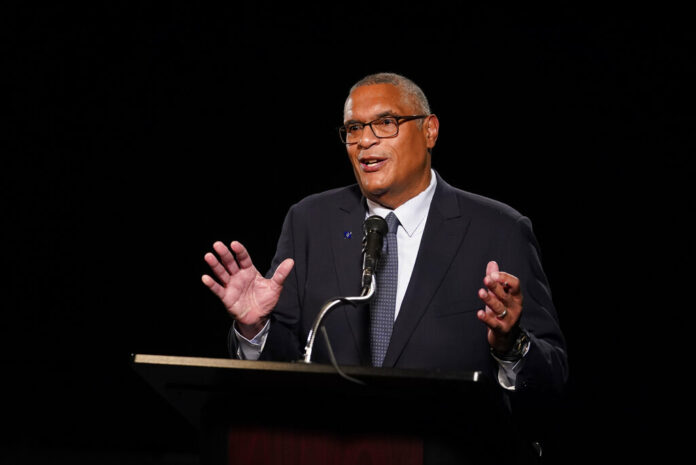 (WESTFIELD, Ind.) — Two of the three candidates for governor have now announced who they'll pick as Secretary of Education if they're elected. They've both crossed party lines with their picks.
The winner of next month's election will be the first governor to appoint the leader of the Department of Education. Legislators voted in 2017 to make the post an appointed office instead of an elected superintendent of public instruction. When Superintendent Jennifer McCormick announced the following year she wouldn't run in the final election for the office, legislators moved up the effective date of the change.
McCormick said when she ruled out a second term she was fed up with interference from legislators, including a reorganized State Board of Education she says left the superintendent with little authority but all the responsibility. But Democrat Woody Myers announced at Tuesday's debate he'll keep McCormick if he wins. McCormick had endorsed Myers last month, and says if Democrats gain enough seats to break Republicans' legislative supermajority, they'd have the clout to make schools a higher priority. And she says with schools facing upheaval from the pandemic, it's important to keep some measure of continuity.
Republican Governor Eric Holcomb hasn't announced who his pick will be if he's reelected. But Libertarian Don Rainwater has also announced a Republican choice for the job: Dawn Wooten, a Purdue-Fort Wayne English instructor who lost the superintendent nomination to McCormick four years ago at the Republican convention. Rainwater says if he's elected, he'll ask legislators to make it an elected office again.
Wooten is an outspoken opponent of the Common Core curriculum, which Indiana replaced with its own academic standards six years ago. She contended in her 2016 race the rewrite didn't fully root out elements of Common Core, and says she'll rewrite the standards again if Rainwater wins. And while McCormick has argued for less emphasis on standardized tests, Wooten says she'd abolish them entirely, leaving schools to conduct their own pre- and post-tests at the start end of the school year.
Standardized testing is not only a state but a federal requirement. States which don't meet it can lose a quarter of their federal school funding. In Indiana, that's a quarter-billion dollars a year. Wooten says she'd make up the money by trimming wasteful spending. She says the department's annual budget of 14-million dollars is excessive.
McCormick hasn't formally renounced her Republican affiliation, but has increasingly broken ranks over the final year of her term. She says the state party disowned her after she toured the state with Gary Senator Eddie Melton during his short-lived campaign for the Democratic nomination for governor. In the last month, she's endorsed not only Myers, but Democratic attorney general nominee Jonathan Weinzapfel and three challengers to Republican legislators in Hamilton County. She's also endorsed Democratic Representative Melanie Wright of Yorktown, where McCormick was superintendent before becoming state superintendent.
McCormick insists her primary interest is schools and students, not party affiliation. She says Myers has shown a willingness to listen to educators, which she says would be "a huge change from what I've seen in the last four years." And she says while the pushback over her listening tour with Melton has changed her outlook, the Republican Party has changed more.