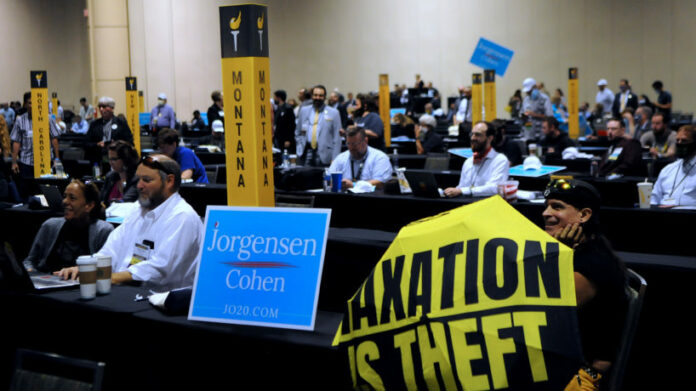 INDIANAPOLIS (Network Indiana) — The Libertarian Party of Indiana has a new chairman and with that a new set of goals in order to be competitive in the Hoosier state.
Evan McMahon has been elected as the new party chairman for Libertarians in Indiana. He feels the party has a lot of momentum after what he calls a surprising turnout for Libertarian gubernatorial candidate Donald Rainwater in 2020.
"I don't think it was a fluke," McMahon told Abdul At-Large on 93 WIBC. "People kind of see that now we're ready. We have the right message and more importantly, the average voter is tired of being lied to by the two dominant parties."
Rainwater won 11-percent of the vote in the race for governor in Indiana in 2020, he finished second in 32 counties ahead of Democratic candidate Dr. Woody Myers. That has been recognized as the best showing for a third-party candidate in Indiana in recent memory.
McMahon said that has positioned the Libertarian Party of Indiana to start building in places where they haven't had a presence before.
"At the end of the election cycle in 2020 we have 25 county affiliates," McMahon said. "Immediately after that we set to work, now we're at 44 affiliated county parties with the goal of having an active affiliate in all 92 counties by the end of the year."
McMahon expects to keep growing and starting taking away votes from both the Republican and Democratic parties in 2022. He says they already have plans to run over 130 candidates in various races in the 2022 election cycle, including challenging current Republican Sen. Todd Young for his seat in the U.S. Senate.
"We're going to have candidates up and down the ballot, but we need to be hyper-focused on specific campaigns in specific areas," said McMahon. "I don't have a road-map for what those specific campaigns will be yet. We have limited resources and we need to be careful in how we deploy those resources."
He said they are still talking with potential "dedicated Libertarians" around the state about running for those races next year. He expects those candidates to be revealed before the nomination period.