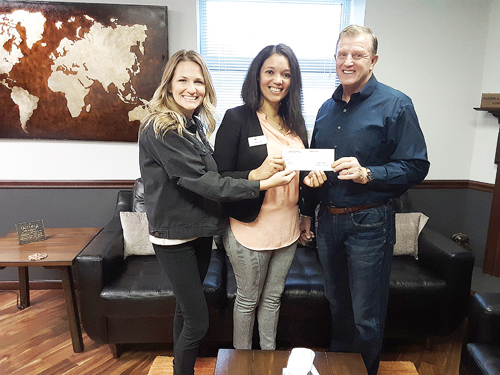 New Life Christian Church and World Outreach, Warsaw, presented Combined Community Services with a $6,000 check Tuesday for the Gift of Warmth utility bill assistance program.
CCS provides services to low-income families. One of the programs in CCS's emergency services is its utility services program, said Alyssa Lowe, director of development for CCS.
"People come in once they have a disconnect notice. So when you get a disconnect notice, you're usually two months behind. And they bring that in and we meet with them and we talk with them about ways to not get in this situation in the future. We find other resources they may be connected to, and then we help them out financially," she said. "We also require them to come up with some of the money as well, so it's not just a handout."
The program will meet people where they are and get them going in the right direction.
CCS is running the program through Feb. 9. The Gift of Warmth program can help up to 150 families, said Alyssa. The amount donated to families ranges from $75 to $150.
"In the past, because of some budget restrictions, we have not been able to help some people," she said.
In the past, utility companies like NIPSCO and Kosciusko REMC have matched the donations made for this program for seven or eight years, said the Rev. John Lowe, pastor of New Life Christian Church. However, at one point, the utility companies decided to cap the amount that would be matched by the utility companies. Then, they started not matching the donations for several years.
Alyssa said she is meeting with the utility companies to talk about matching the donations this year.
The Greater Warsaw Ministerial Association started the program about 15 years ago, said John. "We challenged all the churches attending the association to do something as a church and donate that money to the association and the ministerial association would donate it to CCS."
John said it depends on the church on how they decide to raise money. In past years, New Life Christian Church has had a basket passed around for donations designated for Gift of Warmth.
New Life Christian Church's donation was on its own and not with the ministerial association for Tuesday's donation.
"This past Christmas service – Dec. 22 – we decided that our whole Christmas service would go to go helping not-for-profits in our community and what they're involved with," John said. He said he hopes CCS will be able to get the utility companies to match the contributions for the Gift of Warmth.
The church divided up its Christmas donations and gave CCS $6,000, he said.
The official donation from the GWMA will be in February, John said. There will another check from the ministerial association, "if the other churches will join us to do that."
He said his church makes the donation early so information about Gift of Warmth can get out in the community and other churches can follow suit.
John said his church may donate more money to the program, but will give the money to the ministerial association, which will donate it to CSS.
Those wanting to donate to the program can do so at CCS, 1195 Mariners Dr., Warsaw, or going online to cssgives.com/donate.