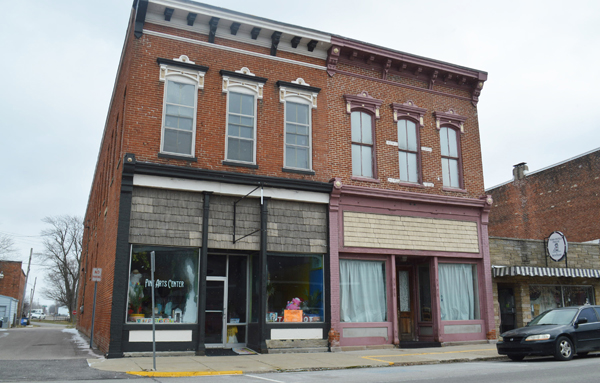 A new restaurant/bar is opening in Pierceton this spring, and on Thursday the Kosciusko Alcohol and Tobacco Commission approved alcohol permits for the business.
Tap Root Brewhouse & Company LLC, doing business as Tap Root Brewhouse & Co., 130 N. First St., Pierceton, applied for a beer, wine and liquor – restaurant permit and a beer retailer – restaurant permit.
Desiree Tunstall, one of the owners, said the principle nature of the business was a restaurant and bar "so we can serve to the community various beverages, including wine and beer, and then we'll also have a restaurant menu that includes pizza, pasta, sandwiches, homemade desserts."
She said their business, Taproot Tees, which has been in operation for 10 years, also is included in that. Taproot Tees is a general store and sells T-shirts.
Excise Officer April Tackett said, "This is one of those ones where if you wanted a three-way (license), you had to buy the underlying (permit). So, it's one business, one restaurant beer, wine and liquor, just with no carryout."
Tackett asked, since the name of the business is Tap Root Brewhouse, "Are you actually going to make your own beers? Is it going to be a small brewery, or just the restaurant?"
Tunstall said they weren't going to make beer in the brewhouse, but will get their beer from other local places.
There were no remonstrators against the permit. Commission member Dan Woods made a motion to approve it, Commission President Elim Smith seconded it and it was approved 3-0.
Smith asked when the restaurant was going to be open. Tunstall said their goal was May 5.
Tackett said when she drove by it, she assumed from the outside that it wasn't done on the inside. Tunstall said they were "chipping away" at it and all three of the co-owners are perfectionists so they weren't rushing.
Tackett asked if they were clear on the difference between a family room and a bar room and what type of separation needs to be done.
Co-owner Kimberly Cole said, "We have a family room in the front … the gift shop is right up there. There's a family room in the front, and from what we were told, we are going to have a 'fence' – because we're going for a 'beachy' kind of look – so we're going to have a fence to separate from the bar."
The restrooms will be in the family room on the first floor.
"So as long as the restrooms are on the family room side, your fence idea will work for a while. We call that limited separation where … you have the half wall. You can still see into the bar room, but you can't pass back and forth," Tackett explained.
With the fence idea, she said, the business has to do at least $200,000 a year in food in order to keep the fence.
"You obviously, since you're a new business, once you open, you can project your food figures for at least two years. Once that two yeas is up, if you are not even close to hitting your food figures number, you have to replace the fence with an at least 6-foot high wall that you can not see through. That's what separates family room and bar room," Tackett said.
Third co-owner Scott Werstler asked about an inspection. Tackett told him she will have to come out and do the business's final inspection. Werstler said they need to put in the restrooms and kitchen yet.
"In order for me to do the final inspection, it doesn't have to be cosmetically finished, it has to be structurally finished," Tackett said, adding that the separation has to be finished. "But you're going to want to give me a call at least a couple weeks before you are ready to open because your permit will be in escrow and you won't be able to order from your distributors until this is taken out of escrow."
Cole later said that once the business gets rolling, "We want to do like mystery dinner theaters and plays. So I think it will be a little more fun."
In other business, the Commission also approved renewals for the following businesses without violations:
• Side House Grill Inc., doing business as Side House Grill, 2604 Shelden Drive, Warsaw, beer, wine and liquor permit, restaurant.
• Vandelay Industries LLC, doing business as Man Cave Brewing Company, 10201 Ind. 13, Syracuse, beer, wine and liquor permit.
Smith also was elected president for the Commission for 2022.