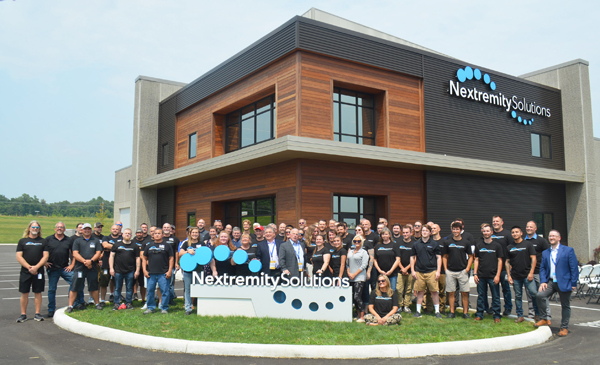 Those who attended the grand opening and ribbon-cutting event Friday for Nextremity Solutions' new facilities couldn't help but remark about how impressive the building was inside and out.
Located at 1195 Polk Drive in the Warsaw Tech Park, the building is a 69,479-square-foot state-of-the-art facility home to approximately 90 employees with plans for more hires. The interior spaces of the building were designed by Project 22 Designs interior designer Misty Silveus.
After the ribbon-cutting ceremony with the Kosciusko Chamber of Commerce, invited guests and Nextremity employees had an opportunity to listen to short speeches by the company's president, founders and elected officials.
Nextremity Solutions President and CEO Rod K. Mayer started the comments out by saying, "I can not begin without acknowledging the origin of our success. That origin comes from a faith in God. He's ordained this day, we believe by faith, before we were even formed in our mother's wound. Now for some of you, that might be a stretch, but it's not for this leadership team and it's not for the majority of our team. So I could not start this session of expression of gratitude without expressing gratitude to my Lord and my Savior, Jesus Christ."
He said two surgeons had a vision of creating new innovations to bring to the marketplace to impact patients' lives around the world.
"Without Lon Weiner, without Stu Katchis, we wouldn't be here today," Mayer said.
Nextremity Solutions Inc. was founded in 2007 by Dr. Lon S. Weiner and Dr. Stuart D. Katchis, MD. In 2013, Mayer was appointed president and CEO of the company. Nextremity Solutions originally followed a traditional startup orthopedic company business model where it designed, manufactured and distributed its technology through the use of its own distribution network, according to a news release provided by the company.
In 2016, Nextremity Solutions changed its business strategy to focus on its key strength of product development by developing its i3® Strategic Solutions process. Through this process, "surgeon-driven innovative Revenue Ready® product solutions are identified, designed with the surgeon and patient in mind, manufactured to the highest quality standards and thoroughly tested by top surgeons before entering into the marketplace through distribution agreements with top OEMs," according to the release.
In March 2020, Nextremity Solutions purchased Lakeland Technology, a contract manufacturer located in Warsaw. In May 2020, Nextremity Solutions announced its plans to consolidate operations into one building by partnering with West Hill Development to complete a shell building that was located in the Warsaw Technology Park.
Mayer said Friday's grand opening brought Nextremity to a new crossroad, but it's not where the journey was going to end. "We're going to continue to see accelerated growth as we remain passionately committed to our mission and to our values, and remain passionately committed to serve surgeons who serve patients around the world," he said.
Mayer thanked Tailwind Capital co-founder Frank Sica, who gave him the opportunity to interview with Nextremity in December 2012; the original Nextremity Board of Directors for their belief in him; and his family for being there for him.
"Man, what a journey to today. If you saw the beginnings of this company and if you recognized where we've come from, it's an amazing journey," Mayer continued.
He next thanked the Nextremity team.
"I've seen a collaboration over these last 15 months, it's been amazing. But no greater collaboration than I've seen in the last 60 to 90 days, to pull off what we've pulled off. We could have never done it without a team effort, and I just want to publicly thank each and every one of you because we have an incredible team and we're going to continue to grow stronger together," Mayer said.
Nextremity, he said, will "never, ever, ever" give up on being a surgeon-driven patient-focused company.
He expressed gratitude to Warsaw Mayor Joe Thallemer for being a great leader, visionary and friend.
"It was Joe who came to us and offered us an opportunity to consider being a part of this Tech Park. So, Joe, thank you for your ongoing support," Mayer said.
To Warsaw Community Development and Economic Director Jeremy Skinner, he said Skinner believed in Nextremity and what they wanted to do and thanked him for his support. Mayer thanked the Kosciusko Economic Development Corporation and Director Alan Tio; West Hill Investment Group; D & D Electric; Cary Groninger of G & G Hauling & Excavating; the team at Robinson Construction; Misty Silveus and Grace Whalen; and Malcolm Associates Inc., James Malcolm and Kellie Altruda.
"I'm going to conclude by just saying this: I'm overwhelmed by amazement. I give God all the glory for that," he said.
Katchis said he and Weiner started the company "on a couple of napkins in our offices on 77th Street in New York." He said they had a dinner with their Nextremity family Thursday night and the word that both of them used were "overwhelming."
"I hadn't seen this facility except on YouTube until yesterday, and I must tell you, it's really an overwhelming thing that these guys have done here, and in any endeavor such as this, there are many, many people to thank and I just want to thank a few," Katchis said.
He thanked friends and family, including Sica, who helped get Nextremity off the ground and served as its chairman. Sica's leadership led Nextremity to Mayer and the leadership team it has now.
Katchis thanked the original and current leadership teams.
"A number of you over the last couple of days have come up to me and expressed how wonderful it is to work in this environment, and the word you've come up with is 'family environment,' 'terrific company,' 'fun coming to work,' and I think all the credit goes to these guys and this leadership team, and I think that really bodes well for our success," Katchis said.
He thanked his brother Randy and his wife and kids.
"We are overwhelmed with Warsaw, with the people here, with your talent, especially in the orthopedic community, and there is a reason why this is the Orthopedic Capital of the World: It's because of you people," Katchis concluded.
In his brief comments, Weiner said he was "blown away by this" and "I've got to move out here so I can be closer." He talked about his wood-working father and when he became a surgeon in 1987 and invented his first product.
"I was building a wooden model in his shop for the patent application, and I was drilling a hole with the drill press," he recalled. His father told him to get out of the way and he would drill the hole for him. He responded, "You know, Dad, people let me drill holes in them. He said, 'You know what, let me see what you got.'"
That's when Weiner decided he wanted to be an innovator. "An innovater really is a person that has an idea, but then is smart enough to put other smart people around him so that they help that idea become a great idea. And that's what Nextremity Solutions is, isn't it?" he said.
Thallemer said, "It's truly an honor and blessing to be here. It's the progress that makes it a great day in our community. It's a great day to be mayor of Warsaw, to come and honor not only Rod but all of our guests."
He expressed appreciation to the Nextremity employees and the workforce in the community. He acknowledged how critical the workforce is to the community.
Thallemer said Mayer and the whole team of Nextremity is community focused. "And I can't think of a better tribute to our community than someone who has brought homegrown business to fruition with all of the support of you all, and I'm overwhelmed by it," he said.
He welcomed Nextremity to the Tech Park and finished by stating, "On behalf of the city of Warsaw, we're glad you're here."
Indiana State Rep. Craig Snow thanked Katchis and Weiner for taking a risk and bringing their business to Indiana, specifically Warsaw. He said he was very proud to represent the workforce and skill set found at places like Nextremity in this community.
Jim Staton, senior vice president and chief business development officer for Indiana Economic Development Corporation, said, "On behalf of Gov. Holcomb and our newly appointed secretary of commerce, Brad Chambers, thank you so much for the opportunity today. Thank you for this great achievement and thank you for giving us a reason to celebrate this great achievement."
Mary Martin, regional director for the office of U.S. Senator Mike Braun, read a letter from Braun, who was unable to attend Friday's event.
"Rest assured, I'm excited about his new development as you are," the letter stated in part.