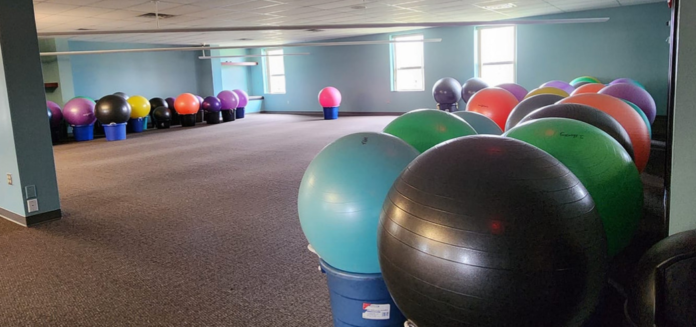 NORTH WEBSTER – Community leaders will celebrate the opening of the Culver Family Wellness Center inside the quickly evolving North Webster Community Center on Friday and Saturday.
At 6 p.m. Friday, organizers will host a ribbon cutting and a "Candy Canes and Cocktails" gathering for adults that will include sneak-peak tours of the soon-to-open adjacent Goshen Physicians Family Medicine North Webster Clinic.
The wellness center and family practice are both inside the renovated former library that is part of the community center.
The 6,000-square-foot wellness center will be a place for exercise and other programming that is free and open to the community.
"As our community continues to evolve, it is so important that we provide a dedicated
place for preventative health, mental health education and fellowship. This future space is
exactly what we need," said Dennis Wagoner, president of the NWCC board of
directors, in a prepared statement.
Saturday morning will serve as an open house for the public as well as a Christmas holiday celebration. Activities run from 8 a.m. to 11.
The public is invited for a free breakfast with Santa who will pose for photos. Other activities are planned, including an ornament-making event.
The public also is invited to walk the festive hallways where holiday treats will be handed out to children.
Saturday's activities are organized and supported by NWCC, the Lakeland North Webster Kiwanis, Goshen Physicians and the North Webster Community Public Library, according to NWCC Executive Director Emily Worrell.
 "This special morning is really about opening our building for our community members and filling them with the holiday spirit," said Worrell.
Renovations for the wellness center were made available by the Culver family, which includes Bart and Cinda Culver who own Bart's Water Sports. Bart's mother, Gladys, was one of the original teachers at North Webster school. His father operated a grocery store in town.
The Culvers are annual supporters of the center and had put aside a large sum of money that was eventually designated for the wellness center.
"They are incredibly generous when it comes to supporting the community center," Worrell said.
The center has been around for more than 20 years, but changes began to take root after the North Webster Community Public Library vacated its longtime home inside the community center in favor of a new home just to the south on S.R. 13.
Officials recently have made it a mission to lease out as much space as possible to help cover expenses and truly become the center of activities.
The Center is now home to the Kosciusko County YMCA, Senior Primelife Enrichment Center (SPEC), The Watershed Foundation (TWF) and Tippy/Chapman Sewer District.  It has also rented out space to two private companies, and NWCC Massage and Chubbies Pub n Grub Catering.
Tippecanoe Township will move into the center soon and the North Webster food pantry and the town's chamber of commerce are expected to move into the center in 2023, Worrell said.
The doctor's office will open for business on Dec. 27. An official grand opening organized by Goshen Health is scheduled for Jan. 16, Worrell said.
"We're really proud of the fact that we're bringing a doctor's office to North Webster. We haven't had a doctor in a couple decades so it's kind of a big deal," Worrell said.