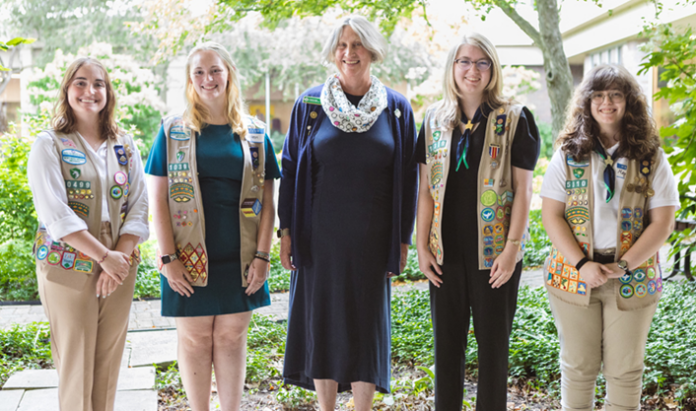 News Release
GOSHEN — Girl Scouts from Warsaw and Claypool were among seven honored in the district as Gold Award recipients.
The district spans northern Indiana and part of Michigan.
Sarah Lynne Northrop, Claypool. She was recognized for her passion for educating others on the Potawatomi tribe and their traditions. When a building at the Fulton County Historical Society showcasing the tribe sustained storm damage, Northrop worked to rebuild the porch
Keely Roe, Warsaw. She saw that many young girls were not being taught breast health and how to recognize signs of abnormal breast behavior. Roe created a patch program for older Girl Scouts to educate them about breast development and self-exams. 
On top of that, Roe was presented with the Girl Scout USA Gold Award Scholarship in the amount of $10,000. 
The awards ceremony was held Sunday at Goshen College.
Other winners included:
• Colleen Britten, Columbia City. She saw that in her community there was a strong high school choir, but not a choir for middle school students, and she worried about what happens to students when they don't have opportunities in the arts.  She started a show choir camp for younger students to encourage a love of music and dancing.
• Heather Elwood, Leo. She recognized that families caring for individuals who are struggling emotionally often need support themselves. Working with Image of Hope Ranch, Elwood built benches for a seating area at the Ranch to offer caregivers a place for respite and created a pamphlet with sources of support for these caregivers.
• Isabella Habegger, Fort Wayne. She was concerned about children and their mental health, particularly post-COVID. She created pamphlets to help others recognize signs of mental health issues, kits with coping items to help children and a fun patch so children could be proud and display all they learned about mental health.
• Courtney Tobin, Columbia City. She recognized that people in need might not be able to access local food pantries when they are open. She built a Kindness Box containing nonperishable food and other small necessities that is accessible 24 hours a day, seven days a week.
• Megan Willis, Hartford, Mich. She realized that emergency services personnel don't often have specific training on how to work with people with sensory challenges during a crisis. She created calming kits for emergency services workers to use in times of crisis and developed a training curriculum to teach these workers how to use the kits.