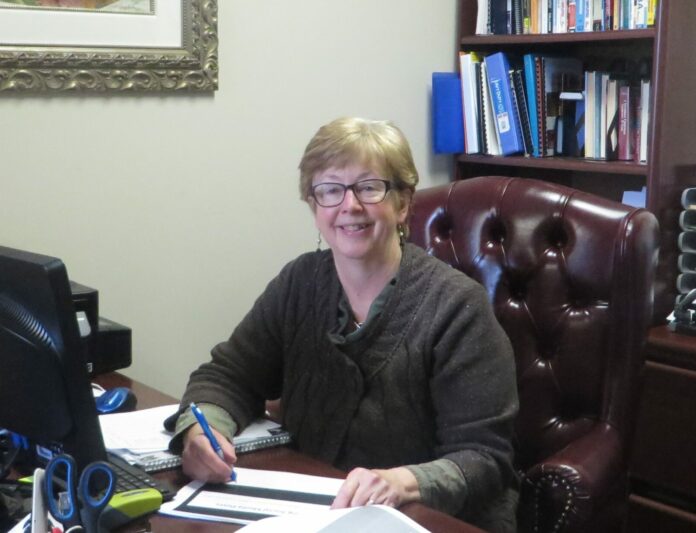 Board of Trustees and staff of North Webster Community Public Library recently recognized Library Director Helen Leinbach Frank for 30 years of service.
Frank joined the library in April 1990 as a part-time employee. Under her leadership, the North Webster Library has grown from a small volunteer entity to a tax-supported public library offering the latest technology and connected to the statewide Indiana Evergreen Library System.
When she first started, the library was housed in a small room inside the Tippecanoe Township Building. In April 2004 it moved to larger quarters inside the North Webster Community Center and will soon move into a new 20,000 square-foot free standing facility. A Pennsylvania native, Frank has lived in the North Webster area since 1989. She holds a
Bachelor of Arts degree in English from Indiana-Purdue Fort Wayne and a Masters degree in
Library Science from Indiana University-Purdue University Indianapolis.
Frank has been a member of Lakeland Kiwanis for nearly 20 years, having served as president and vice-president. She is also active in North Webster-Tippecanoe Township Chamber of Commerce and Northeast Indiana Libraries Serving Communities.
"Over the years the North Webster Library has evolved from the size of small house to our
future new building with 20,000 square feet," reflected Frank. "We have moved from a part-time staff of two to a current staff of 16, half of whom are full-time. We have evolved from a card catalog to an automated statewide system shared with 125 public libraries. With our new building, we anticipate providing additional services and value to our community."
Frank continues, "The community has always been so supportive and involved in our mission. Over the years, board members, staff and patrons have contributed so much to our growth and to me as the director. I am very grateful for the privilege of serving the North Webster community for 30 years."
The current North Webster Library building is closed to the public, but offers curbside and
online services. For online services, visit the library's website at www.nweb.lib.in.us. To arrange curbside pick-up of books, audio books and DVDs or help with photocopies, printing and faxing, call 574-834-7122 opt. 1. The library anticipates moving into its new facility in June.